Four freshman form alternative rock band, the Astro Bandits
As I left a practice at band member, Alec Lawrenz' basement, The Astro bandit's youthful energy, passion, and humor left an unexpected imprint on me. I smiled with content, knowing these four talented musicians with eccentric personalities were doing what they love; hanging out with their best friends and playing music together.
Embodying the role of an invasive yet friendly stranger, I waited while the band scrambled to set up last-minute equipment. The band has no strict schedule, in fact the setup depends on certain personal decisions. "We take fifteen minutes to set up or maybe longer depending on what Simon is eating and then we have to move the couches," said Ana Vigil.
But the band remains thankful for Simon Guzan, despite the delayed choosing of his snack. Almost one month ago, Guzan played the drums for the first time with guitar player Adam Eldred, vocalist Alec Lawrenz, and bass player Ana Vigil. From then on the trio became a quartet, taking the name the Astro Bandits.
"
If I could continue this band I would definitely because I love hanging out with my friends. It's probably my favorite thing to do by far"
— Alec Lawrenz
I expected some wacky story behind the origin of the name, but the choosing of the name truly reflects their overall laid-back attitude as a band. "There's no story. Just two really cool words we put together," said Eldred.
Initially, the band came together when Vigil, who formerly played the guitar, found her passion for music when she experimented with playing the bass. "I had been playing guitar, then I found the bass. I called up Adam and was like, 'Yo, want to start a band?'" said Vigil.
After the band began playing, I instantly recognized all band members' passion. The walls vibrated with their alternative rock sound, Lawrenz exerted ample energy into his vocals, Guzan focused as he skillfully thrashed his drums, and Eldred and Vigil intently played while they exchanged content glances with one another. The impression their music made on me was particularly impressive due to the fact that I was the second person they ever played for, the first being Lawrenz' mother.
As they went through their set of five original songs, I recognized 'Live Forever, Die Trying,' from previously listening to it online. The song portrays the same enthusiasm and energy that the band's personality gives off. "[That song's] about the band. We talked about in the lyrics how we feel like rock stars more than ever [referring to when the band first played together]. It's my favorite line," said Eldred.
At first Eldred and Lawrenz would write songs together, however Eldred eventually evolved into the role of the songwriter. "In the early days, one month ago, me and Alec would write stuff together. We stayed up till four in the morning, drank mountain dew, and think of something. That didn't work out. I started writing songs alone. I'll write then I'll play," said Eldred.
When Adam first introduces the band to a song, they come together and simply listen as he plays the song on his acoustic guitar. "It's like story time and we all gather around," said Vigil.
When the band played 'Universe,' written by Eldred, the vocals and instruments blended smoothly and stayed consistent with the band's youthful energy. This quickly became my favorite song of theirs along with Guzan. "When he [Eldred] played 'Universe' at my house, I thought it was the best song ever," said Guzan.
The band also shares musical influences that play a key role in individual music tastes. "I have always been playing punk rock. Recently, my music taste has changed. I listen to a lot of English Indie stuff and old British music, like The Smiths and Oasis," said Vigil.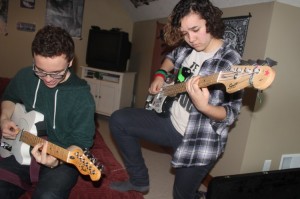 Not only is Oasis the foremost influence on the band's music taste, but also on their inside jokes. The band members constantly quoted Liam Gallagher of Oasis. I sometimes struggled to understand the meaning of these quotes that the band used as an almost secret language. "We are a love puzzle," said Guzan in a British accent as he imitated Liam Gallagher.
This quote does somehow seem to accurately describe the band, from their story of how the band "fell together" like puzzle pieces to their shared passion for music as best friends. "If I could continue this band I would definitely because I love hanging out with my friends. It's probably my favorite thing to do by far," said Lawrenz.
I especially loved the purpose of the Astro Bandit's––to have fun with their best friends, doing what they love the most. Together, the four members gave off a vitalizing, humorous, and an inviting energy, which will transcend in front of an audience for the first time on March 22 at the Arcadia.