Even with three new tracks, "Believe Acoustic" still shies in comparison to other Bieber albums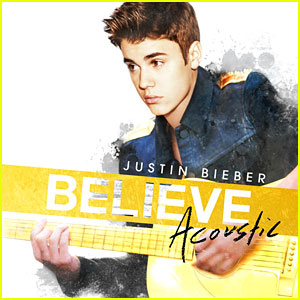 Every time pop-artist Justin Bieber comes out with a new album, the pressure for perfection tends to increase as his albums usually become more enjoyable, mature, and relatable. Breaking this trend, Bieber's second acoustic CD does not quite compare to the first acoustic set, "My Worlds Acoustic." However, "Believe Acoustic" managed to make it into iTunes' top album spot in less than 24 hours.
Adding to his acoustic playlist, Bieber's CD contains eleven heart-wrenching songs; three of which are brand new tracks. One of the new songs, "Yellow Raincoat," is sung in a whiny, love-sick voice that is not traditionally associated with Bieber. This song is one of his few songs that is not easily relatable. It doesn't have a clear message or purpose as he repeatedly sings about putting on his yellow raincoat.
In the song "Boyfriend," Bieber switches from the original rap style of singing by making it more melodic and heartfelt. Slightly slowing down the tempo of the song, Bieber still manages to swoon his Beliebers with this well-known number. This song displays the capabilities of his voice while putting a twist to the original track.
artist's VEVO account
Continuing with an upbeat song, Bieber adds the new track "I Would" to this album. This song could easily be predicted as one of his top songs on the album. With catchy, reassuring lyrics, it is unforgettable. Along with this new song, "Nothing Like Us" is another addition to the acoustic set. This song has a slower tempo, but it isn't boring or too slow. Bieber releases his feelings and heart into this song with truthful lyrics and relatable situations.
Switching to an enthusiastic version of his acoustic collection, Bieber keeps the excitement and fast tempo in both "As Long As You Love Me" and "Beauty And A Beat." With these songs two of his more popular tracks, he succeeded in making them a unique addition to the album. Despite his amazing vocals, the song "Be Alright" is a bit of an upset. The acoustic version sounds just about identical to the original track. The few contrasting traits would be tempo, and a piano creating the beat rather than a guitar. Despite the fact that the original version of this song is amazing, the anticipation for a different form of the track and the resulting nearly equivalent sound between the acoustic and original version is disappointing.
To really please his fans, Bieber added a song onto the album that was recorded live at one of his concerts. As "Fall (Live)" displays Bieber's singing outside of the studio, it also advertises his skill on the guitar. This song is about falling in love with a best friend; Bieber sings this song in such a way to convince the listener that the lyrics come straight from the heart and are born of a personal experience.
Overall, "Believe Acoustic" is not an album to be embarrassed of while it exhibits Justin Bieber's true singing talent. However, it does not quite reach the sky-high bar that was set by "My Worlds Acoustic." Nevertheless, with a mix of new songs, old songs, slow songs, and upbeat songs, this album is what the beliebers around the world have been waiting for.