Wrestling team gains prominence amongst winter sports
With hockey drawing the most fan attention during the winter season, the Red Knight wrestling team is making its case for being in the winter-sport discussion. The arrival of Head Coach Mr. Larry Allar five years ago brought the program to another level and with an improvement in facilities the program flourished, making it one of the more successful, yet overlooked programs amongst the student body.
The wrestling program was successful during the 60s and 70s, being ranked amongst the elite in the state and winning the team championship in 1961. After those decades the program fell and, until Allar came in, there was talk of shutting the program down due to lack of interest. After strong support brought in donations for a new wrestling room the program became relevant again and, in the past four years, wrestling has produced 10 state entrants, one state champion, one state runner-up, one state fourth place finisher and one state fifth place finisher.
Coming into the year the Red Knights knew they had a chance to impress people throughout the state. "With having such a great amount of ranked wrestlers on the team it helps with us wanting to push ourselves to victory," eighth-grader Jake Allar, the coach's son, said.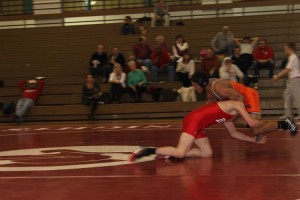 The team currently has five wrestlers ranked in their respective weight class all of whom are of state quality. Jake Allar is seventh in the state at 106 pounds, Jarred Oftedahl is ranked first at 113 pounds and ranked nationally, Logan Kass is sixth at 126, Jake Deutschlander is sixth at 152 class and Christian Dulaney is ranked third at 182 pounds. These five form the core of wrestling at Benilde-St. Margaret's and with Oftedahl as the only senior, the future is bright for the program.
The team's two captains, sophomore Logan Kaas and junior Carter Burn, are the leaders of the team and set the precedent for the team. "Putting on the example day in and day out is my biggest responsibility that I try to live up to," Burn said.
Burn is in his second season in the program, but through hard-work over the summer, was awarded a captain position. Kaas, coming off a state appearance in one of the toughest weight classes in the state, feels honored to be named a captain as a sophomore. "It's an honor and nice to get respect from the team even though I'm a younger member of the team," Kaas said.
As the season winds down for the Red Knights, the team's looking to stay focused going forward into sections in state. "Every one of the wrestlers has improved this year and they are now starting to show it during the competitions," said Burn. Behind the coaching of Allar and strong underclassmen, the program which was almost shut down a few years ago has blossomed into one of the most decorated groups in high school wrestling.