The Red Knight in blue: Kelly Pannek shines on Team USA
Kelly Pannek is only a junior but she's already a high school hockey superstar; All-Conference her freshman and sophomore seasons, team captain as a sophomore, All-State as a sophomore, Star Tribune All-Metro second team as a sophomore, and a state record for scoring three goals in 22 seconds. She was even recognized in Sports Illustrated's "Faces in the Crowd", which recognizes young potential athletic superstars.
Not only is Kelly Pannek a Minnesota High School Hockey sensation, but she now has National and International attention after coming home with a silver medal from the United States Under-18 Women's Hockey Team. Pannek joined seven other girls from Minnesota as they traveled to Finland for the 2013 IIHF Under-18 Women's World Championship.
The tournament consists of eight of the world's top international teams: Finland, Sweden, Germany, Switzerland, Czech Republic, Russia, Canada, and USA. There were two groups of preliminary rounds to determine who would advance to the semi-finals.
In five games in Finland, Pannek scored three goals and tallied two assists. All three of her goals and one of her assists came in two games against the Czech Republic. "I had a few other chances in the tournament, but I just gripped my stick a little too tight, and got a little too excited," Pannek said.
Pannek went to National Camp in St. Cloud over the summer, where they scrimmaged and did off-ice training. Unfortunately, she was not selected to go to the camp in August where they select a group of 22 players. "The coach called me and told to keep working hard and not to worry because the teams aren't necessarily finalized," Pannek said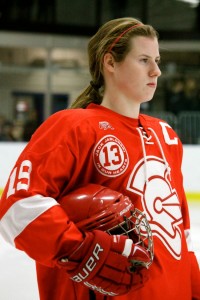 During November, she had gotten a phone call during school, so she checked the voicemail after school. The voicemail said Pannek needed to set up a conference call with the director of USA Women's Hockey and the head coach, Jeff Kampersal. During the conference call, she was told they had selected her to be one of 22 players to play in Finland for the USA Under-18 National team. "I knew about it right away, and I had some friends who told me she would be added to the team. I was really excited about that and thought she deserved it," BSM girls' hockey head coach Mr. Dave Herbst said.
"Before she went over to Finland, she would stick around after practice and do a little extra, which shows me she continues to want to get better," Herbst said.
Team USA played a total of five games, where they outscored their opponents 36-2 and did not allow a goal in their first four games, which included wins over Russia, Sweden, and two wins over the Czech Republic. "Both the US and Canada pretty much dominate women's hockey and play blowout games until they face off against one another," Pannek said.
Team USA played Canada in the gold medal game, where they fell 2-1 in overtime. They outshot Canada 40-25, including a blistering first period where they outshot Canada 20-1. Unfortunately, they could not hold on after their strong start as Canada scored late in the third to tie and again less than a minute into overtime to give Canada the gold medal. "Playing against Canada was pretty special, like you don't want to make a mistake, but you're so excited that it's kind of a blur," Pannek said.
While Pannek was gone, the Red Knights had to try to make do without their leading scorer and top playmaker. They played five games without her, where they lost their only two games of the season (so far). "When she was in Finland, it wasn't as intense in the locker room or on that ice. And when she is on the ice or in the locker room, she has the ability to make everyone around her look better because of her expectations and the way she competes," Mr. Herbst said.