"The Hobbit" offers adventure, stunning effects
For dedicated fans of the "Lord of the Rings" series, this prequel, also directed by Peter Jackson does not disappoint.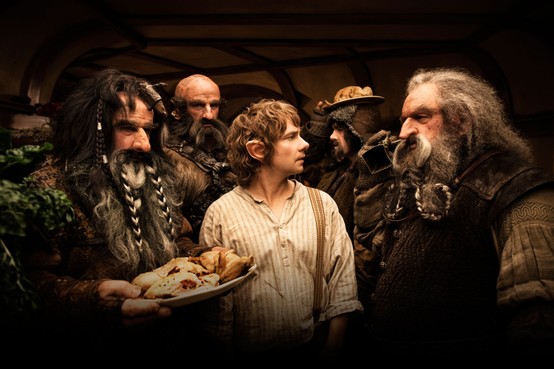 "The Hobbit: An Unexpected Journey" captivates audiences with its stunning visual effects, as well as its fast paced and intriguing storyline.
On December 14, the highly anticipated film was released, the first of a three part film adaption to J.R.R. Tolkien's novel "The Hobbit." With high standards to live up to, given that it is the prequel to the classic, exciting and award-winning "Lord of the Rings" trilogy, "The Hobbit" does not disappoint. Every moment of the film's two hour and forty minute run time is engrossing and exciting, from singing dwarves to thunder battles, "The Hobbit" will bring tears of joy to all "Lord of the Rings" fans.
Warner Brothers Pictures
The story is set sixty years prior to the "Lord of the Rings," and the plot follows the adventure of Bilbo Baggins, a content hobbit who has never explored Middle Earth, having lived in the Shire his entire life. Bilbo's life changes forever when a wizard, Gandalf the Grey, unexpectedly asks Bilbo to partake in a quest involving thirteen dwarves, including the intimidating dwarf leader, Thorin Oakenshield. The dwarves goal is to reclaim the Lonely Mountain, where the dwarves beloved kingdom once stood, and where their treasure is guarded by the ferocious dragon, Smaug.
Perhaps one of the greatest parts about "The Hobbit" is how perfectly cast the characters are. Martin Freeman, who plays Bilbo, portrays his character as nervous yet brave, his performance is humorous and heartfelt, the perfect fit for Bilbo. The thirteen dwarves are also cast to realism, with the younger dwarves with no beards and the older dwarves with larger noses and much more facial hair. Many characters from the "Lord of the Rings" reappear in "The Hobbit" such as Elijah Wood as Frodo, and Ian McKellen as Gandalf.
"The Hobbit" brings back other creatures of Middle Earth, such as goblins, elves, trolls, and of course, orcs. The visual display of these creatures is even more realistic this time around, for the sole reason that the technology ten years ago has advanced. The costume design and visual effects serves to show the true effort and dedication put into this film, as well as the advances in technology over the years.
ENTV
Other highlights include the songs sung by the dwarves, from tunes that jokingly tease Bilbo, to meaningful melodies about the dwarves homeland. The music adds to the films adaption of the book with its spot on verses, as well as a bit of comic relief throughout an action packed movie. Much of the singing of the dwarves happens at the beginning of the story, but certain melodies continue throughout the film adding to the action scenes and making them more climactic.
With two more films to go, "The Hobbit: An Unexpected Journey" is off to a successful start, ranking as the 44th highest grossing film of all time. The success is much earned with the magnificent visual effects as well as the spot on casting. The story line is exciting and engaging, and anyone who is a fan of adventure, or who just wants to live in Middle Earth, will love "The Hobbit."