Winning streak comes to an end for boys' lacrosse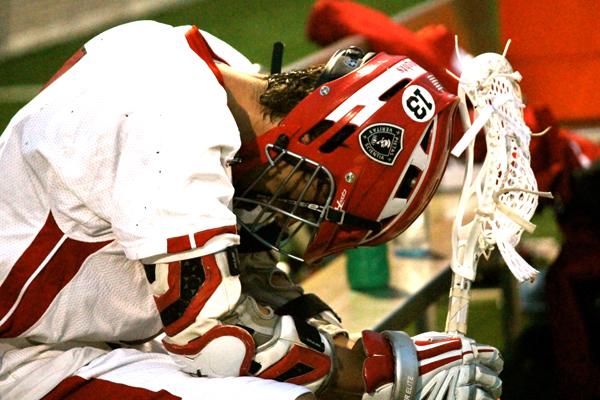 After 24 games, it's over.
The boys' lacrosse team lost their first game in nearly two years on Saturday, April 14, falling to Eagan 10-9 after giving up five straight goals in the third quarter.
Although the streak was the longest in state history, the team doesn't feel that breaking it was all that significant. "It wasn't really much at all. We never think about it. We don't talk about it. [Tonight] was just another game," said BSM head coach Mr. Colin Mulcahy.
The game got off to a slow start. At the end of the penalty-filled first, the score was tied 1-1. BSM had trouble in transition, with a handful of passes getting picked off by Eagan's midfielders. The Red Knights also took way too many penalties, putting them down a man and forcing senior goalie Thomas Gilligan to come up big.
It looked like BSM was going to get a little bit of breathing room in the second quarter after senior attack Christian Horn scored his second of the night, putting the Red Knights up 4-2 on a diving goal that he pretty much rolled between the feet of Eagan's goalie. The Wildcats came right back though, with junior midfielder Max Elsenheimer scoring his second of the night.
The floodgates opened late in the third though. After having a 5-4 lead, BSM gave up four goals in 2:03, giving Eagan a three goal advantage.
BSM was threatening with the man advantage with only a few minutes left in the game, but Eagan junior attack Connor Simpson scored his fourth goal of the night with 58 seconds left. Senior attack Nick Lauth scored with 18 seconds left for the Red Knights, but the Wildcats won the ensuing face off and ran out the clock.
The Red Knights lost two key players, with Horn injuring his ribs in the second quarter and senior attack Will Hoesley going down with a knee injury in the fourth. "It definitely makes a difference, but with those guys out, we're figuring out who our depth is," said Mr. Mulcahy.
BSM will try to start a new winning streak on Tuesday, April 17, against the Apple Valley Eagles.