Champions!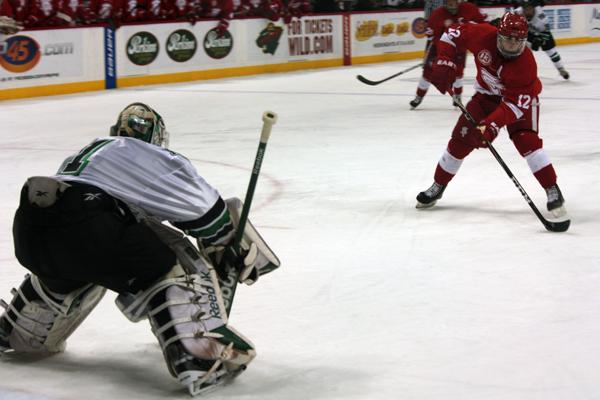 Many student athletes aspire to have their number retired or to be inducted into their school's hall of fame, but junior forward Grant Besse did something more Saturday night.
"He just wrote himself into state tournament history," said boys' hockey head coach Ken Pauly.
Besse scored five goals in front of over 17,000 people in a 5-1 victory over Hill-Murray to give the Red Knights their first class AA state championship in school history.
"I don't know if you can really put words to it," said Besse.
Besse scored the first two in the first period, and another in the second. By the time he added his last two, a buzz went through the building whenever the puck would hit his stick. In a post game press conference, a reporter even said "Grant, you missed on a breakaway…what happened?"
Three of Besse's five goals were when BSM was down a man. "That's a [heck] of a penalty kill," said Pauly.
The Red Knights had won two championships in class A ('99, '01), but opted up a few years later. This was their first trip to State since they made the semifinals in 2008.
While state championships in all sports are a big deal, winning the hockey state tournament in Minnesota is something completely different. 1980 U.S. Olympic head coach Herb Brooks even points to winning the state tournament while playing for St. Paul Johnson as the greatest moment of his hockey career.
Senior forward Christian Horn knows this. After putting up 50 points in his freshman year, he was asked to join the United States Development Team in Ann Arbor, Michigan.
"Every Minnesota high school hockey kid dreams of doing this," said Horn on winning State. "It's why I stuck around."
"I get to go out on a high note. I don't have to cry at night because I lost a hockey game, and my senior season's over, and now I don't know what I'm going to do with hockey. Yeah, I might not know what I'm going to do with hockey for the next two months, but who cares? I just won a state championship," said Horn.
One of the team's captains, a senior defenseman in his fourth season on the team, Jake Horton, was ejected from the game in the third period for a spearing penalty. Due to MSHSL rules, if a player gets disqualified, he cannot take part in the trophy ceremony.
"I get it, but I'd like to see a little more humanity behind the rule, too," said Mr. Pauly.
Many critics of the team cited the team's defense as a weak point. The Red Knights responded by giving up just five goals in their final six games.
"We really stepped up our defense, because knew we had the defense all year. People doubted that, but it showed. We do have one of the best defenses in the state," said Horn.
Part of that defense came from junior goaltender Justin Quale, who had a .961 save percentage while playing in front of over 17,000 people each night. "I guess I can play in big games now. It's fun. I felt really relaxed in these big games and it's really surprising me," said Quale.