Lumpkin's layup helps boys' basketball avoid upset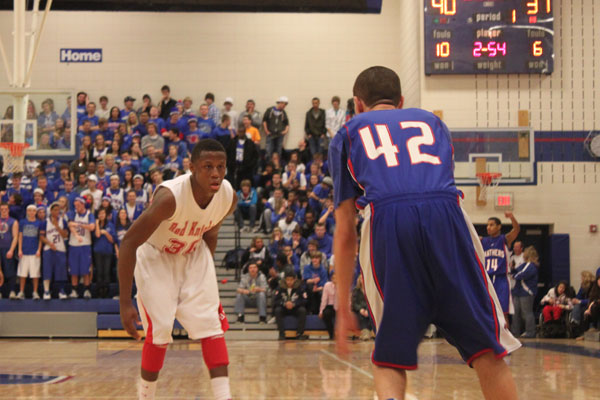 "Don't miss."
That was the thought that ran through the head of senior forward Sanjay Lumpkin when he got the ball under the basket unguarded with three seconds left in the game. Lumpkin made the layup, giving the top ranked boys' basketball team a 67-65 win over number two Spring Lake Park.
"We were just trying to get a screen and roll on the top. The ball went into the corner and I just cut back door and no one was guarding me," said Lumpkin.
The Red Knights struggled to contain Spring Lake Park's Sean Scott, who had a career night with 36 points, 13 rebounds, and six blocks in a packed, pro-Panther gymnasium. Head coach Mr. John Moore admitted that guarding Scott isn't an exact science. "[Our plan was to] put Sanjay on him and hope he doesn't shoot as well as he shot it," said coach Moore.
The Red Knights held the lead for most of the first half, but lost it just before the break. The Red Knights were unable to regain the lead for most of the second half, due mostly to their own missed shots and turnovers. Coach Moore explained that the team's leaders did his job for him. "They did most of the talking, which I'm pretty proud of. The five seniors out there, they knew what was at stake," said coach Moore
Lumpkin's 25 points and 13 rebounds continued his trend of high performance during big games. He also scored 22 points in BSM's upset of Hopkins on Dec. 16. "I just try to do my part, we have a lot of balanced scoring on our team. We just came out and played together and got the win," said Lumpkin.
Lumpkin wasn't the only star for BSM. Senior guard Isaiah Zierden dropped 17 points, including 11 in the first half.
The win puts the Red Knights in the driver's seat in the conference and retains their number one ranking in class 3A. "This is our number one competitor in the conference––we took care of business, but this is about this team and this year," said coach Moore. We're having a great year, we're just marching along. Our goal is get the conference title, get the section title, and then we go to state."