I am not Justin Beiber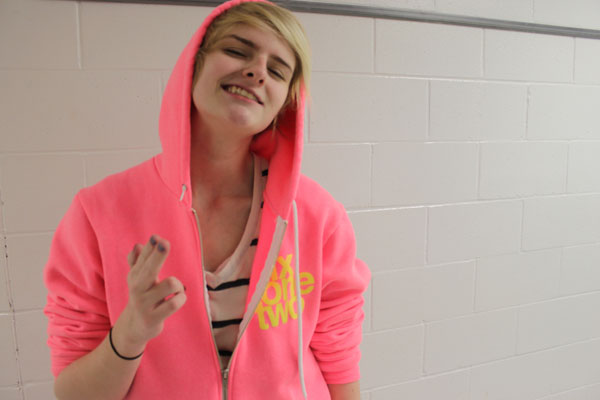 Walking in Uptown on a sunny Saturday afternoon, I had that awkward feeling of being watched. I peeked over my shoulder to see if I was being followed; no one was there. I continued, wearing my purple "American Apparel" hoodie and colorful kicks, with the hood up and headphones in, when I saw a herd of preteen girls trailing behind me, pointing and giggling and mumbling nonsense about something called "Bieber Fever." This is when I realized they thought I looked like America's favorite teen heartthrob, Justin Bieber.
I really don't see a connection between me and that prepubescent boy who is a year younger than I am. But if there was one, I could see the resemblance––he might possibly have the same cute button nose and the same luscious, flowing locks as me, but really, I'm older and I had them first. Therefore, I have dibs on those features, and I say that he copied me.
In actuality, nobody really copied anybody, but overall, I chose to have the hairstyle I have because it's super easy to deal with and I love having a sexy wave of hair. Then along came Bieber, and he decided that he'd also like to chop off his hair and spike it up in the front. I've seriously considered purchasing one of those shirts that says, "No, I'm not Justin Bieber."
My mother once told me that I am my very own unique person––that no one could change that. And then this kid came in and decided to have a haircut named after him, which I so coincidentally had myself. My theory is that Justin Bieber has a secret obsession with me, and creeps on my Facebook. This is where he gets all his ideas to wear colored hoodies, cut his hair in a certain way, and attempt to mimic my undeniable swag.
I guess I don't understand why people would associate me with Bieber in the first place––when I had longer hair that never happened. Just because I have short hair does not mean I am Justin Bieber. The crucial, second difference between myself and The Biebs might take you by surprise: I am not a boy. I am very much a girl.
I was born with luxurious, wavy, platinum blond hair. The Biebs has brown hair. Unfortunately, even if I would like to, there is no way I would be able to dye my hair brown for fear of even more obscene remarks regarding my resemblance to a boy pop singer.