They Bought a Zoo- You Shouldn't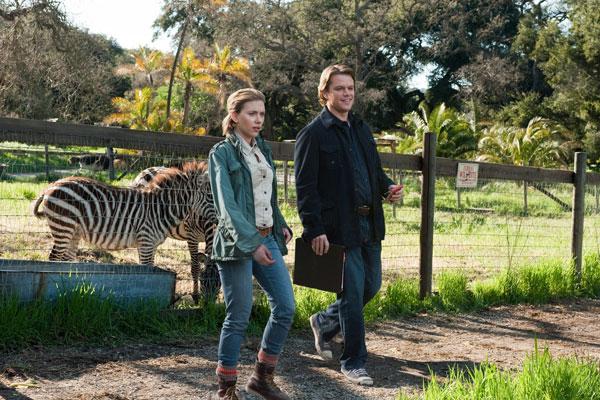 After a prolonged layoff from directing, Cameron Crowe returned this year with his new movie "We Bought A Zoo," a true story based on an adaptation of writer Benjamin Mee's memoir called "We bought a Zoo: True Story of a Young Family, a Broken Down Zoo, and the 200 Wild Animals That Change Their Lives Forever."
Inspired by the tale of a real-life zoo owner, the story follows Benjamin Mee, played by Matt Damon, as he struggles to get over the recent death of his wife, Katherine, and raise their fourteen-year-old son Dylan and seven-year-old daughter Rosie. After quitting his job as a journalist and searching for a new start, Benjamin ultimately stumbles upon a charming dilapidated farmhouse, with one small twist—a menagerie in the backyard.
Having fallen on hard times, it becomes Benjamin's job to rehabilitate the zoo to its former glory, accompanied by a dedicated crew of zoo workers, including head zookeeper Kelly, played by Scarlett Johansson. Also featuring Elle Fanning as the cousin of Kelly, the film builds its likable cast list by adding Maggie Elizabeth Jones, who almost steals the show as the adorable daughter of Benjamin, Rosie.
Featuring an emotional performance by leading man Matt Damon, the movie is able to capture tender moments in Benjamin's struggle to accept his wife's death, without making the entire movie the story of a distraught widower refusing to move on. Although the movie doesn't entirely blend Katherine's story arc with the zoo story arc, as Benjamin never opens up to any of the zoo keepers about Katherine, it still offers viewers with somewhat of a resolution when Benjamin reveals that his spontaneous decision to buy the zoo was fueled by the uninhibited and adventurous spirit of his late wife.
Able to capture the strength and likability of Benjamin Mee, Matt Damon delivers a strong performance. However, the film left little room to develop the character of Kelly, played by Scarlett Johansson. Peaking the interest of the audience, Johansson's character appears to be a funny and hardworking girl, but viewers were left to jump to conclusions about her heavily hinted at romance with Benjamin Mee. Ultimately exchanging a brief kiss and admitting their crush on one another, Benjamin and Kelly seem to immediately forget about out their romance, and end the movie without a single hint about their unresolved feelings.
Telling an overall moving story, the film leaves viewers with an emotionally satisfying plot line that will appeal to any viewer dealing with the struggle of grief and the bravery to seize an opportunity to start fresh.