Students "white out" the halls to show support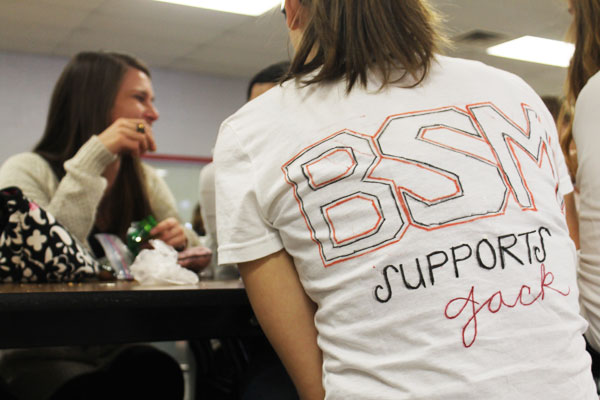 There is no shortage of days in which BSM students dress in a particular color to support a cause, but the abundant white clothing that appeared in the halls on Thursday, Jan. 5 was different than all others, supporting something much closer to the BSM family. Red Knight students, faculty, and staff dressed in white to show their support for sophomore Jack Jablonski. After his damaging spinal cord injury during a JV hockey game just last week, the BSM community has united to support Jablonski, his family, and each other.
The "whiteout" is a reminder of Jablonski's presence in the BSM hallways. Students of all grades, including those in junior high, donned any white clothing they could find. Many also decorated their white clothing with uplifting phrases, the number 13, and "#jabs."
Along with BSM, other high schools including Minnetonka, Southview, Blake, Holy Family, Wayzata, Hopkins, Edina, and many others around the Twin Cities proudly wear white today because of how they have been touched by Jablonski's story.
Leave a Comment