Pond hockey tournament organized to raise money for Jablonski family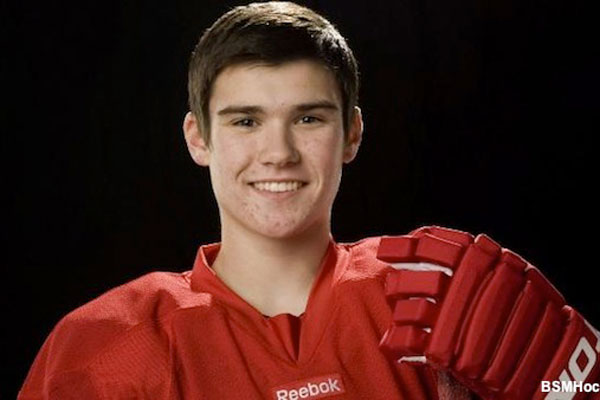 In honor of recently injured sophomore Jack Jablonski, three juniors, Mario Zattoni, Arthur Boyle, and Jake Szarzynski have decided to co-host the "Jack Jablonski Junior Bronze Pond Tournament" on Lake Minnetonka on Saturday, Jan. 14.
The event, to which only 30 Benilde-St. Margaret's students were originally invited, now has 948 people "attending" according to the Facebook event. "I had no idea it would blow up like this. I was only expecting 100 people to RSVP, and now there is over 900 in less than four days," said Zattoni.
Because of the vast amount of interest from people in Minnesota as well as other states––what started off as a small tournament will now include a free-skating rink for those not interested in playing hockey, an auction for donations from teams and individuals, and food and beverages for the many attendees. "There will be four to six rinks for pond puck and a leisure skating oval for people who just want to skate. Also, an auction will be set up for the items donated to raise more money," said Zattoni.
Zattoni has dedicated much time to contacting professional and college sports teams in order to raise interest in the tournament––encouraging attendance or donations in order to support Jablonski and raise money "I've been talking to local sports stores and the Minnesota Wild, the Gophers, the Vikings, the Twins, and other NHL professional teams to get items donated to the auction," said Zattoni. "The teams still have to talk to their superiors, but most of them said that they would be happy to donate."
Restaurants in the area have also been contacted in regards to providing food for the tournament. "Local food places or chains are donating stuff. Crave donated gift cards, Maynards donated 200-300 chicken wings. I am talking to Buffalo Wild Wings after school, and Jimmy Johns is talking to corporate to get any donation approved. I am going to talk to Caribou to see if they can donate hot chocolate, cider, and other bevrages––if Caribou can't I'll talk to Starbucks or Dunn Brothers," said Zattoni.
With eleven teams and counting already registered to compete, and given that Jablonski was injured during a hockey game, the hosts of the tournament realized that certain legal actions would have to be taken in order to protect liability and the safety of the players. "I'm talking to an attorney right now. I've got a player waiver form ready to go and now I just need public liability insurance," said Zattoni.
Money from the auction combined with the entrance fee that teams will pay to participate in the tournament, as well as outside donations will be compiled and given to the Jablonski family in order to help pay for medical expenses. "We wanted a fundraiser or gathering to recognize how great of a kid [Jablonski] is, because without him, we wouldn't be coming together like this. All of the money will go to the family or to start a charity or scholarship fund in his name, but the main priority is his family at this time," said Zattoni.
For individuals or families interested in attending, the tournament will be held on Excelsior Bay. Parking will be provided by Excelsior City Hall and Bay View Restaurant, with shuttles to Jake Szarzynski's house, whose address is listed on the Facebook event. Monetary donations or donations for the auction should go through Zattoni or Boyle.