BSM holds press conference to discuss support of Jablonski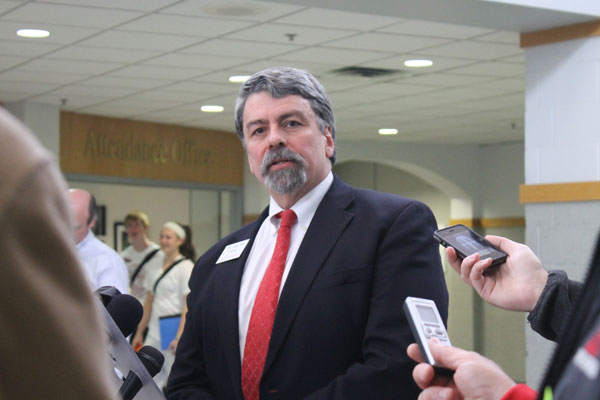 Local reporters gathered in the main lobby of Benilde-St. Margaret's School on Thursday, Jan. 5, for a brief press conference with President Dr. Bob Tift regarding the recent injury and public support of sophomore Jack Jablonski.
Dr. Tift refrained from commenting on the current medical condition of Jablonski and spent much of the time emphasizing the community's appreciation for widespread support. "I wanted to take the opportunity to extend my thanks and gratitude for all the community members who have reached out to us, they have been just tremendous and helpful in the outpouring of prayers and support," said Dr. Tift.
While a somber mood tends to surround these recent events, instead, the press conference focused on not only the support of the greater community, but also, the efforts of the BSM students. "The white-out idea was really generated by the students…the students really deserve a lot of the recognition for the Internet and Facebook outreach," said Dr. Tift.
Dr. Tift emphasized that the growing platform of support not only provides strength for Jack and his family, but it also grants all of those involved a chance to grow as individuals and community members. "I think it's a great opportunity for the students to learn some great life lessons on faith and hope and supporting each other, but I think what the students are learning from that is that it really is about a community of students," said Dr. Bob Tift.
While the majority of the press conference centered around the positive aspects of the support that the BSM community has received, Dr. Tift also managed to touch on the more sensitive topic of preparing the students for the road ahead. "We had an opportunity last night to meet with the hockey players and talk with them and their parents and their coaches and share the news. We wanted to let our students know that we are here for them and that we love them and support them. We will do whatever we can to make a great transition for Jack," said Dr. Tift.
While support throughout Minnesota for Jablonski has skyrocketed, so has media coverage. For Dr. Tift's statement, there were more than 15 local journalists, and more than five video cameras prepped for coverage. "A story like this touches every parent and every member of the community. It's sad, it's important, and people need to learn as much about it as possible," said Tim Sharno, a reporter for KSTP Channel 5.
While Dr. Tift's statement had a more general focus on the variety of support the Jablonskis have received, the local media was also interested in the all-school white out that occurred to honor Jablonski today at BSM as well as other high schools across the country. "We're covering the white out and looking at you as a community, united. We're also here to listen to Dr. Tift," said Sharno.
Many students looked on during the press conference to listen to Dr. Tift comment on the situation that so many members of the student body feel personally attached to. "It's good to show everyone that we, as a school, are coming together. It's good to show the support that he has. It is really encouraging for [Jablonski]," said sophomore Kelly Pannek.