Maggie's Restaurant-A Wayzata Tradition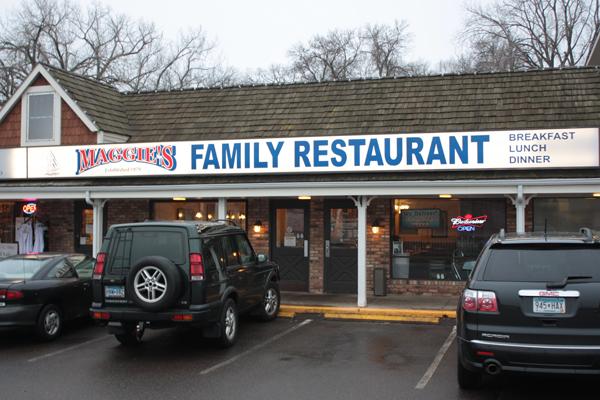 Located just off of Lake Street in downtown Wayzata, Maggie's Restaurant has a small-town feel that will take anyone back to the basics. It doesn't boast any award-winning gourmet dishes, and the place certainly isn't going to win any awards for its decor, but what it lacks in style and flair, it makes up for in good food and friendly staff.
The restaurant, open seven days a week, has been family-owned and family-operated since 1979. The owner regularly visits the eatery to meet with patrons, and the wait staff is very friendly and punctual, causing a connection between restaurant and customer that encourages one to come back.
The establishment itself is somewhat small, holding just over a dozen tables. However, the dining room is still very open, thanks in large part to an opening that looks into the kitchen, allowing guests to view meals being prepared.
The soft music playing in the background creates a quiet and casual atmosphere. A few paintings sparsely decorate the cream colored walls, and the tables are set-up without any centerpieces or tablecloths. Although everything is done very simply, it works quite nicely.
Maggie's serves breakfast all day, and lunch and dinner meals can be ordered at the appropriate hour. The menu contains a great variety of options to choose from, including burgers, pasta, and pizza, as well as daily dinner specials.
The Maggie's Deluxe Burger, often considered the restaurant's best burger, is a delicious beef patty on a toasted bun and topped with bacon and barbecue sauce, with pickles and lettuce thrown on for good measure. The flavors combine perfectly together to form a powerful flavor that lingers long after the last bite.
The spaghetti is an excellent option as well, with a mound of noodles covered in a creamy homemade tomato sauce consisting of tomatoes, garlic, and fresh herbs. The loaf of house-made garlic bread that makes your taste buds dance is a perfect compliment, and when spaghetti is served as the dinner special, Maggie's offers endless refills.
Of course, if one is in the mood for breakfast, a few large pancakes surrounded by fluffy eggs, sausage links, and thick strips of bacon piled high on the side of the plate is the way to go. No matter what breakfast is chosen, though, no one walks away hungry.
Maggie's is a restaurant with food that is simple, flavorful, and highly appetizing. Although it may never be featured on a Food Network show, it is the fact that Maggie's has not lost its identity or its high quality of food that makes it exceptional.