"The Trip" Does Not Fall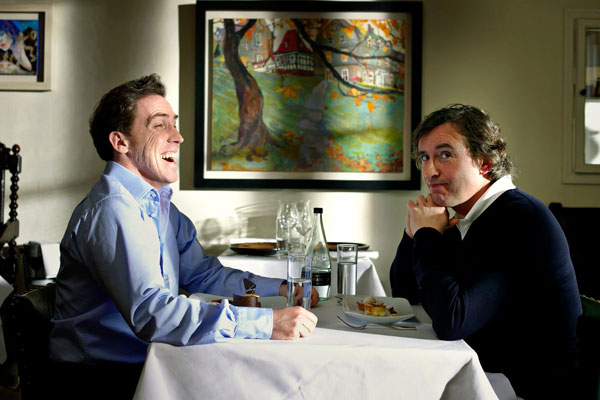 Impressions can be funny, yet most fall flat. But "The Trip" feautures some of the best and funniest impressions I have ever heard. Who does them you may ask? Enter Rob Brydon and Steve Coogan. These two friends make you roll with laughter as they transverse northern England in one of the funniest movies I have seen in a long time.
The story deals with the real life people of Steve Coogan and Rob Brydon as the travel northern England in in search of great restaurants. Coogan, a famous actor, is working with a popular English magazine for a while to do restaurant reviews. He planned on bringing his girlfriend along on his restaurant escapades, but she bailed, and he was left with his short Welsh friend, Rob.
As the two amble through the hills and fields of Northern England, they do impressions of Michael Cain, Sean Connery, Liam Neeson, Dustin Hoffman, Anthony Hopkins, along with others (my favorite being Woody Allen). Not only do you die from the impressions, but their constant banter back and forth is just as good.
Although the film is hilarious it also features a sad picture of an aging actor struggling to find work and worth in a tough climate. Rob Brydon is famous for his impressions but was never much of an actor. Where as Coogan was, and in some regards still is, a huge actor, though struggling to come to terms with his age and the horrible movies and shows that are pitched to him. Not only that, if he is ever to make it big again, says his agent, he will have to move to LA, leaving behind his children from a previous marriage.
This film is surprisingly beautiful. The landscapes of Northern England are lush and green, yet with a muted palette of colors. The score is not much but is quite content to sit idly by in the background.
If you are looking for a film with loads of unintelligent humor "The Trip" is not for you. If you know nothing of the actors aforementioned, then you will also not enjoy this movie either. But if you are ready for a trip through England, filled with humor and spot on impressions, than this film may just be worth seeing.