Football team has difficult home opener against Totino-Grace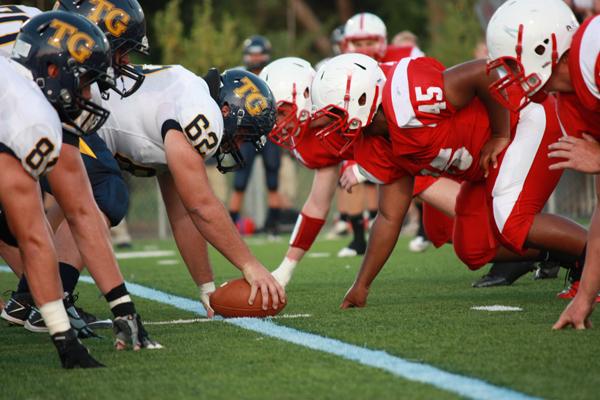 Armed with a high-scoring victory over Robbinsdale Cooper last week, the Red Knights entered Friday's home-opener against Totino-Grace hoping for a close game. However, Benilde-St. Margaret's was outmatched on both sides of the ball, and Totino-Grace walked away with a 41-10 victory. In a surprising roster change to start off the game, BSM opted to replace senior quarterback Isaiah Gray with sophomore Keaton Strudsrud. During the first drive of the game, Strudsrud led the Red Knights down the field, where they eventually scored three points on a 27 yard kick by senior Paul Graupner, giving BSM an early lead. The Eagles quickly answered with an 18-yard touchdown run, and from there the game was all Totino-Grace. The Eagles threw for two touchdowns and ran for three more, making the score 41-3. Senior Dominic Burg ran 17 yards for a touchdown with under three minutes left in the 4th quarter, but it wasn't enough as the clock ran out and the Red Knights walked away with their first loss of the season.
About the Writer
Peter Best, Sports Editor
Peter Best, known to his friends as Peter Best, is a proud founding member of the Handsome Men's Club. He enjoys bowling, climbing trees, and riding...