A growing relationship with Japan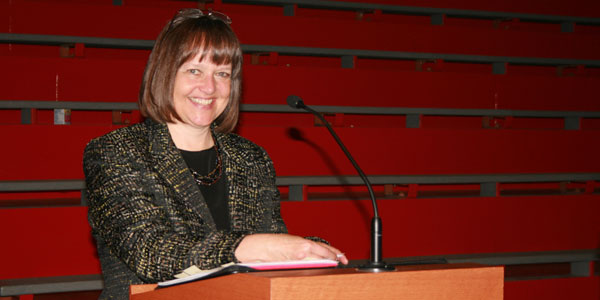 As a part of the BSM common basket project, Ms. Mirja P. Hanson shared the story of her own involvement with Japan at the spring liturgy, held Friday May 6. As an Honorary Consul General of Japan, Ms. Hanson hoped to inspire the BSM community to get involved with relief efforts, both financially and through their prayers.
Ms. Hanson came to BSM with high expectations of leaving a lasting impression on the students. "Ever since I started the role of consultant about a year ago, I fell in love with Japan," said Hanson. "I wanted to speak to the emerging generation of society, and create new fans of Japan."
With the common basket donations benefiting relief efforts in Japan––a country traditionally hesitant to accept foreign aid––Ms. Hanson appreciates the generous contributions the students made (roughly $1700). "I was happy to come and speak, because it is best to personally show thanks," said Ms. Hanson. "All of the money you have given, that can be used in so many different ways, from putting out basic goods to cleaning up efforts."
The United States as a whole has played a major financial part in helping Japan in its time of need because of the strong citizen diplomacy between the two countries. "I don't dare put a number on it, but I'm sure the United States has provided millions, if not billions of dollars," said Ms. Hanson.
With eight sister cities in effect, Minnesota's relationship with Japan has existed for over fifty years. The longest pairing (both in Minnesota and the country) is St. Paul and Nagasachi. "Japan happens to be Minnesota's third largest trading partner," said Ms. Hanson. "It's amazing to see how two countries that were once at war have continued a peaceful relationship over the years.
BSM has plans to strengthen their relationship with Japan in the upcoming school year, by hosting students from the Kaisei Catholic School in Japan for the third year in a row. "There will be 55 [Japanese] students shadowing BSM students in the fall," said Ms. Liddy Guzman, BSM's Diversity Coordinator. "New next year, we will be hosting one of Kaisei's top students for the entire year."
The students will be arriving in late September 2011, and Ms. Guzman plans to travel to Japan to accompany the year-long exchange student to the United States. "I'm very excited that I am going to visit Japan and experience their culture. "Hopefully I will be able to open the doors for a possible exchange program at BSM," said Ms. Guzman.
Ms. Hanson believes the cultural exchange program will be an effective way to create new relationships and instigate meaningful discussion among students. "Through the Japanese students coming, BSM students will have someone they can share their perceptions of the recent natural disasters and other cultural aspects with," said Ms. Hanson.
Ms. Hanson has faith that the BSM community will continue to foster the school's relationship with Japan, and is willing to help others get involved however possible. "I would encourage anyone who wants more information to contact me, so I can refer them to more opportunities," said Ms. Hanson. "This is a great way to strengthen any ties students already have and build new ones."