Drama department presents High School Musical: On Stage!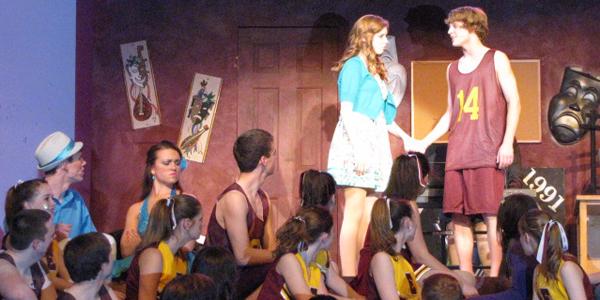 Rumors spread, announcements were made, auditions were held, and finally in March the Benilde-St. Margaret's drama department began preparing this years spring musical production of "High School Musical." The popularity of the widely known franchise drew in more participation interest and is expected to draw in a bigger crowd.
Choir director Nancy Stockhaus, and the other members of the drama department, wanted to find a way to appeal to the student demographic. "The last musicals we had big crowds for were 'West Side Story' and 'Beauty and the Beast,' and that was because they were popular in our culture," said Mrs. Stockhaus.
The prediction that a production of "High School Musical" would draw more attention to the spring musical was spot on. "I think HSM, because of the name, has brought in a lot of people that normally wouldn't audition for the play. It's something that people know, so it's fun that people are interested in it outside of the people that are in it too," said senior Megan Collins who plays Gabriella Montez.
Senior Rob Shaver, who has never performed with the drama department or auditioned for a musical, scored the lead role of Troy Bolton. Shaver, who has been recognized for his pursuit of music, found a niche in "HSM" and amongst his cast members. "This experience has really opened my eyes to an activity that really connects to my skillset. It's been one of my favorite experiences in high school and I'm glad I did it," said Shaver.
The result of more people striving to star in the musical, led to more people being cut from the final cast list. "We had to cut people this year, but, there are more than two main characters. I'm always in favor of a musical that features more people. And the chorus is on stage a lot, there are at least seven big musical numbers with everybody on stage," said Stockhaus.
The multitude of musical numbers mixed with difficult choreography has proved to be a challenge for those with little experience in musical theatre. "The most difficult part has got to be either singing and dancing at the same time. Learning the dances has to be my least favorite part, but I loved singing and learning the songs," said Shaver.
The musical, which will run for two weekends starting on May 6, is slightly altered from the Disney channel original movie that many people know. "It's the first movie in it's entirety. There are only a few added parts, mainly dialogue, that are there to make up for costume changes," said Mrs. Stockhaus.