Dog fest: 'paws'-itively perfect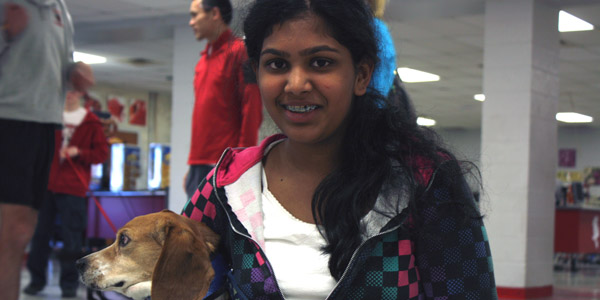 Students, teachers, and their dogs experienced a "paws"-itively perfect evening at BSM's annual Dog Fest on April 11, as the canines and their owners gathered in the commons for an assortment of fun, dog-related activities.
Beginning with a "Grand March," Dog Fest allowed student and faculty dog owners to show off their precious four-legged companions as they introduced their pets to a panel of judges, headed by the math department. "Students bring their dogs up to us, and let them show us any tricks they can do, or simply stand there and look cute," said Mr. Dan Bowler.
After much deliberation amongst the judges, awards were given out to dogs in a wide range of categories. These prizes ranged from "Best Dressed" and "Best Behaved," as well as others such as "Longest Tongue" and "Best Actor" (for playing dead, of course). "Every dog received an award, and we had a bunch of different ones. The best was for 'Most Athletic' dog who was a boot-hockey goalie," said Mr. Bowler.
Though Dog Fest is not a real competition, seeing as all dogs receive some kind of award, the event simply provides a fun night for students to fulfill a dream that many have had since age five: bringing their dog to school. "It's really just a fun, cute event for people to show their dogs off to their peers and teachers. Good times are had by all," said Mr. Bowler.
Though a slightly risky affair, with dogs of all sizes and breeds interacting in a small space, Dog Fest continues to be a school favorite. As expected, a moderate amount of craziness accompanied this event. "There were about thirty dogs in the commons, so there was definitely the occasional accident, and a lot of chaos," said Mr. Bowler.
For the dogs of senior Madileine Grodnick and teacher Ms. Anna Overbo, Dog Fest was more than a chance to explore a new territory and meet new dogs. It was a chance to find love. "Ms. Overbo's new dog was in love with my dog, Walter. They didn't leave each other's side all night," said Grodnick. Other dog owners and spectators noticed this phenomenon as well. "It was a lovefest for Ernie and Walter. It was actually quite funny," said Ms. Nicole Rasmussen.