Six years of practice pays off in a place at state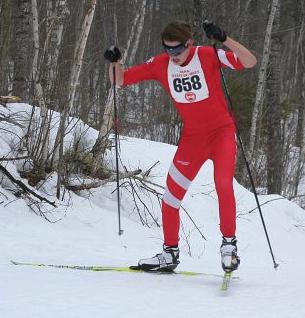 Senior Garrett Shaffer is continuously training, whether there's snow or humidity, to succeed in his sport of choice, Nordic skiing.
Shaffer has skied since he was in eighth grade and has grown as an athlete each year, because of his dedication and intense training. "I was actually terrible in junior high and ninth grade, I was short and fat so I was really slow. I was 84th place in conference my freshman year, but I just got better –– a lot better –– every year," said Shaffer.
In order to maintain his athletic physique for the past three years, Shaffer partakes in a summer camp consisting of two hour runs or roller skiing. He also runs for the cross country team during the fall to stay focused on the season ahead. "[It is] five days a week, seven to nine in the morning, for the whole summer. It was really good training and kept me in shape," said Shaffer.
During the 2011 ski season, Shaffer placed eighth in sections advancing him to the state tournament, where he placed thirteenth. "[It was my] first time going to state. I was really surprised [because] we're in the hardest section," said Shaffer, "so eighth place was a little surprising."
Just because high school is ending doesn't mean Shaffer will give up the sport he loves. He is planning on skiing on his own during college. "Nordic in college is different than high school –– it's more of a commitment," said Shaffer, "you get on a bus Thursday and you don't come back until Sunday."
With Shaffer's five years of competitive skiing wrapping up, going to state, and placing higher than he expected, it is a good run to end on.