I bought the beads! I promise!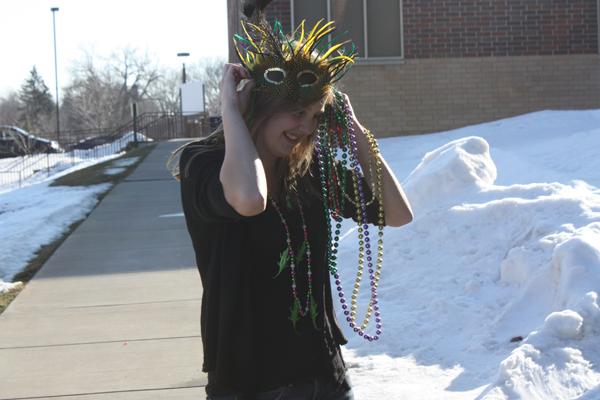 The smell of urine and garbage hanging in the air, the charming dance moves of the scruffy overly-enthusiastic man holding a mysterious drink in a paper bag, multiple shops claiming to sell "Voodoo spells and curses"… I knew immediately this was going to be a vacation to remember.
Ah New Orleans, commonly thought of as a place where college students go crazy and middle-aged people make everyone else feel uncomfortable once a year at Mardi Gras. Yes, this perception is true. Even in the wealthy districts of the town, thousands of beads hang from trees and telephone wires––because nothing says classy like cheap plastic beads with a sleazy connotation littering the environment.
Walking down Bourbon Street one night (after trying to prepare myself by watching a "Jersey Shore" marathon), I noticed a few guys on a balcony of a bar calling out and waving some beads. I mean, that's fine. Not only was it not Mardi Gras, but they were waving beads at an underage girl standing next to her mother and grandfather…
But New Orleans is not just filled with sordid tourists, refreshingly, the city is also home to the ethereal. Nothing says paganism like fortune-tellers and tarot card readers selling their services in front of the large cathedral in Jackson Square.
My personal favorite was Larry the Realistic Mystic. Sitting on a crate in the middle of Jackson Square, I could tell by his scruffy beard, beer-belly, baseball cap, and cardboard sign that he was a genuine psychic.
There was something for everyone desperate person here, from love potions to palm readings to voodoo dolls. I even contemplated buying a love potion or a voodoo doll, not for myself to use, but to sell to a Justin Bieber fan. I figured it could be my one chance to finally become popular at school… nah.
Although I had decided toying with the supernatural wasn't really my thing, I guess a brush with voodoo was in the cards for me whether I paid for it or not. I ran into a famous "forensic anthropologist" with an impressive background: she had written a best-selling book about teeth-marks, spoke eight languages (including my favorite, Latin) and had traveled the world like a real-life Indiana Jones (a worthy hero by the way, to those of you who favor pretty-boy werewolves).
But like almost everything in the Big Easy, nothing was as it seemed. I later came to find out she was a tarot card reader from Arizona, and was either telling my future or (more likely) simply a pathological liar.
In 48 hours––the time it takes for many people's New Orleans vacation to end up much like the plot of "The Hangover" (replacing the tiger with an alligator)––I had encountered psychics, eaten nearly half my weight in beignets and gumbo, and felt disturbingly comfortable walking down Bourbon Street in the middle of the night. And hey, I even got some beads as a souvenir… I bought them of course.