Between a rock and an Oscar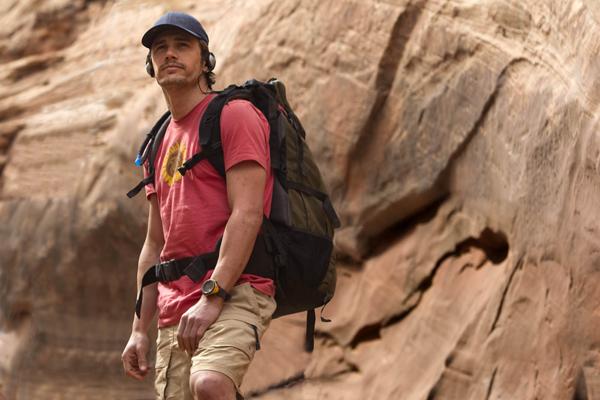 Laughter, tears, grimaces, and empathy are just some of the many feelings that arise in the audience while witnessing James Franco's Oscar-worthy performance in Danny Boyle's new film "127 Hours" about the incredible true story of Aron Ralston.
The story is the inspiring tale of a climber who is trapped in a canyon when a rock pins his arm against the cliff wall. Over the next five and a half days he contemplates his life, while videotaping himself, and in the end extricates himself from the rock by dismembering his arm, then he scales a 65 foot cliff, and hikes over eight miles before he is rescued.
Franco displays his acting prowess by portraying all of the emotions, qualms, decisions and delusions of Ralston as he fights to survive in a place where no one will be able to find him. The story provides an amazing character, but Franco brings Ralston to life.
Some might wonder how a 90-minute movie could be pulled off when the majority of the film is a man sitting in a canyon. Boyle keeps things interesting by changing the camera types, switching between his pixely camcorder and a studio camera. The sheer emotion that exudes from his entanglement keeps the viewers interested from the moment Ralston is trapped until he extracts himself from his rocky prison and the events that follow.
Boyle uses many different filming techniques, but the most interesting cinematography is when Boyle pulls away from the canyon to show the immense nothingness that resides around and in this desert, showing how far away Ralston is from civilization.
Great music accompanies this film with a solid score and soundtrack. The film starts off with "Never Hear Surf Music Again" by Free Blood. Boyle edits this song and spreads it out over the next few scenes, which creates either a pumping beat in the background or just a subtle undertone to give an eerie and foreboding feeling from the very start of the movie.
"127 Hours" is not only a great story, but a great film. Boyle and Franco portray this story perfectly, the story of not only survival but of the human person that can overcome anything if he puts his mind to it.