Formspring answers personal questions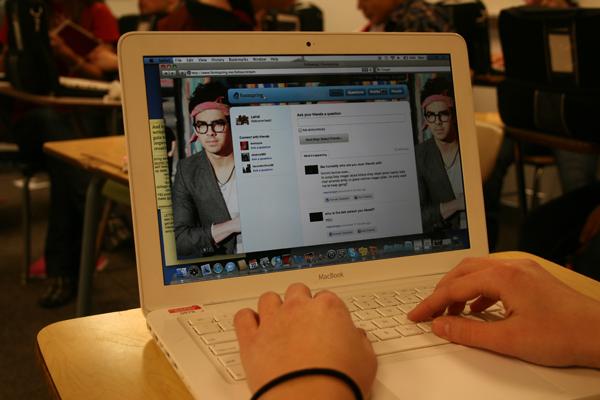 "Facebook stalking," a beloved pastime of many, has morphed into the habit of information-searching online and googling any given name to dig up facts and photos and invade the privacy of individuals.
Any personal information––including photos––is permanently logged on the Internet if it has been previously posted on any site or source. "I realize that once something is out there, it's out there," said junior Ashley Sanger, a former Formspring user.
Although modern technology allows for easy communication and constant connection to friends and family, the real issue of overexposure through technology lies in the abuse of networking through bullying and anonymity. "Technology turns into a bad thing when it gives people the chance to be mean and anonymously act like a jerk to other people," said junior Valentina Benito-Correa, a Facebook and Formspring user.
Formspring, a site where anyone can ask anonymous questions and have them answered by the user, is a questionable source of personal information. Many Formspring users take offense to the often derogatory and degrading comments and questions posted on their account, and choose not to create a website for this reason. "I don't have a Formspring," said junior Scott Quinby. "I think it's just stupid."
The appeal of Formspring lies within the curiosity of frequent social networking users who are inquisitive as to what people would like to know about them, and some students and users protect their privacy by choosing to only answer and post appropriate questions. "Certain questions I just ignore," said junior Glynnis Forsberg, a daily Formspring user. "If I don't feel that people will look at me differently, I will post the answers to Facebook. I sometimes get pretty offensive questions."
Cyberbullying and an unwanted sharing of personal information can also be prevented by choosing to use technology responsibly. "I deactivated my account to avoid the mean questions," said Ashley Sanger. "Formspring isn't an issue if you use it responsibly."
Not only can publicly shared information become a gateway to inevitable unwanted attention and even blackmail, but it can cause serious repercussions to young college applicants who are sometimes faced with regretted images, anecdotes, or opinions that are re-surfaced by inquisitive colleges. According to an article written in 2008 for The Seattle Times, once information is shared on the Internet, it is permanently logged and can never fully be removed.