Driven sophomore gives back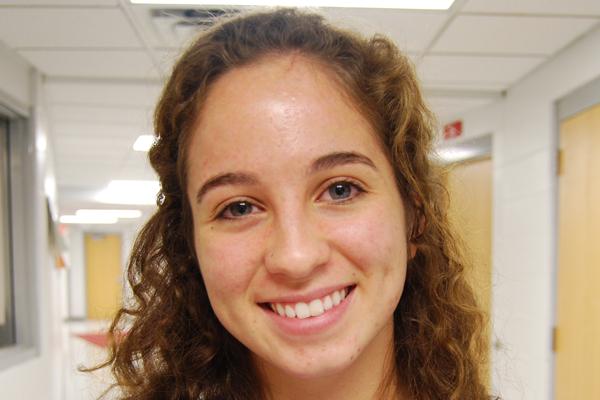 Sophia Flumerfelt, a driven sophomore, is considered an exemplary leader by many and dedicates much of her free time to service and bettering the community she lives in. Flumerfelt sets goals for herself, including working toward earning the President's Volunteer Service Award and helping out at local food shelves and churches.
Flumerfelt volunteers about twice a month with her older brother, Sam Flumerfelt, at S.T.E.P. food shelf in St. Louis Park that aids families who cannot provide enough food for themselves and their children. "My brother and I have been volunteering there for about four years," said Flumerfelt. "I also volunteer at ARC Value Village, a thrift store, and at my church."
After receiving the President's Volunteer Service Award for the past two years for logging at least 100 hours of service, Flumerfelt hopes to earn the award a third time in May of 2011. "I heard about the award from my older brother and felt it would be good for me to do something rewarding for the community and for me as well. When I started volunteering, I did it to gain a sense of accomplishment and realized it was a big part of my life," said Flumerfelt.
Sacrificing time usually dedicated to academics, sports, and social life to volunteer can sometimes be stressful and make time management difficult. "Between skiing, church, school, volunteering, and the crazy pace of life, I squeeze in as many spare moments as I can," said Flumerfelt.
Despite the immense time commitment and struggle to balance academics and athletics, volunteering reaps benefits that do not usually result from everyday activities, like doing homework or focusing on social life. "Volunteering truly puts things in perspective for me," said Flumerfelt. "It is completely different from anything I have ever done because I walk away with more gratitude and awareness of the blessings in my life, big or small, because not everybody has the good life that I have. There is always someone out there who has it worse."
Flumerfelt feels motivated to volunteer by the appreciation of those she serves and feeling useful in the lives of the unfortunate, who need it most. "After volunteering, the smiles I receive motivate me to continue. Working with people on a firsthand basis helps me to understand their reality," said Flumerfelt.