Elite juniors take role as swim team captains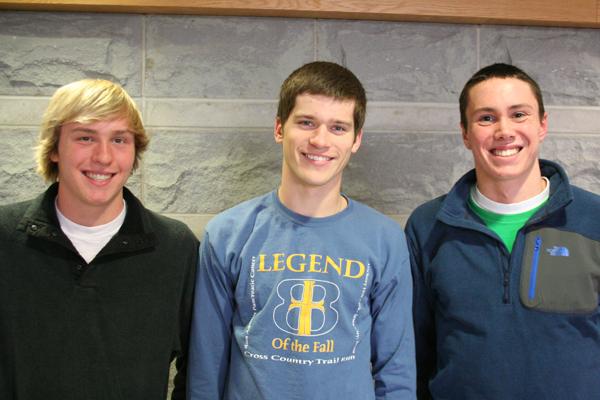 As the boys' swim team enters the new season, the three junior captains are expected to excel in their upcoming meets. A lot is expected of these stars, as all three of them have already succeeded in winning All-Conference and multiple other awards throughout the years.
The three elite swimmers, Jack McGinn, Scott Quinby, and Parker Johnson were given the place of captain at the end of year banquet following their season last year. Each captain has been swimming for ten or more years. "I've swam for about eleven years; since I was six," said Quinby.
It's hard not to be successful after all the time the three captains have put in. "I swim for the Minnetonka Swim Club during the summer," said Quinby.
Each captain has needed to put in their fair amount of work to obtain the number of awards they have achieved. "I swim for the Edina Swim Club in the summer and for Benilde every winter," said McGinn.
Johnson is dedicated to improving his swimming abilities as well. "I practice two hours a day, six days a week for school, and outside of school depends on the time of the year," said Johnson.
Because of all the time the captains have put in to becoming better swimmers, they have earned multiple awards throughout their swimming careers. Each captain received many awards, some including all-state, individual team awards, and breaking school records. "All three of us won all-conference last year," said Johnson.
With this much dedication and awards, the captains have earned respect from the rest of the team. "They're great guys and hard workers," said junior Eric Kretsch.