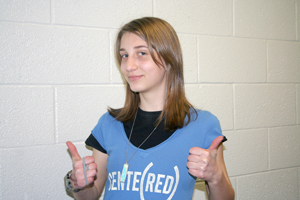 For freshman Irena Cich, summer brought her not only a chance to take a break from her studies, but the opportunity to live in Zurich, Switzerland. There she met students from around the world, and explored the city and several other countries.
After living there for nine months, she returned to the United States in March. Enrolled in an English-speaking school, and surrounded by friendly classmates, Cich enjoyed her time in Zurich, but her first few months in her new home proved to be a challenge.
Since school was out for the summer, Cich struggled to meet people when she first arrived in Switzerland. "It was difficult because I didn't know anyone during the summer," said Cich.
Once school began, she enjoyed getting to know her classmates. "The most fun part was meeting kids from all over," said Cich. Her fellow students came from various countries across the globe, including England, the Netherlands, and Lebanon.
Cich found her studies at the International Community School of Zurich to be less challenging compared to her studies in Minnesota. "English was the second language of many students, so classes were easier for me, especially math," said Cich.
Besides easier classes, Cich noticed more differences between U.S. and Switzerland. Because of a significantly lower drinking age in Switzerland than that of the United States, she found drinking to be more common among her classmates than it is among American students. "Drug and alcohol use was greater because the drinking age is only sixteen there," said Cich.
While in Switzerland, Cich lived with her family just outside the city of Zurich. Located near Italy's northern border, Zurich like all of Switzerland, is surrounded by mountains. Her house overlooked a lake that shares the city's name. Although she appreciated the natural beauty of the lake and mountains, Cich was disappointed with the less than optimal scenery she found when exploring the city.
The surrounding mountains and lakes add to Zurich's beauty but the unattractive buildings that make up city detract from this beauty. "The houses were made of cement and shaped like boxes, even my school was a box-like cement building," said Cich.
Zurich is located in the German-speaking region of Switzerland. For Cich, this meant being "yelled at in German a lot" because she struggled with Zurich's complicated transportation system.
Overall, most of the people Cich met when living in Switzerland were friendly. Since Switzerland is a fairly international county, a majority of them happened to be trilingual as well. "Most spoke three different languages: German, French, and English," said Cich.
Although a few of the Swiss people she encountered were too stubborn to learn English and unwelcoming of immigrants, Cich received a warm welcome from most of the natives.
Although her father's job was in Germany, instead of living his family there, her parents were drawn to Switzerland because of it stands as a more international and diverse country compared to Germany.
Although glad to be back in the United States, living in Zurich gave Cich many unique opportunities. She traveled a great deal to other countries in Europe, especially to Germany and Italy because of their proximity to Switzerland. She even journeyed to Greece to participate in an athletic competition. "I went to Athens for a track meet," said Cich.
Living in a foreign country also exposed her to activities uncommon in the U.S., but popular in other countries. "I played badminton a lot because there were many English people in Switzerland," said Cich.
Cich also participated in activities that many high school students do here in the United States. These included working with props for a school play and performing community service.
Even after spending an extended amount of time abroad, coming back to Minnesota was easy for Cich. "It was like I never left," she said. She disliked leaving her friends behind in Minnesota, so she was happy to be back in the States after spending time in Zurich.