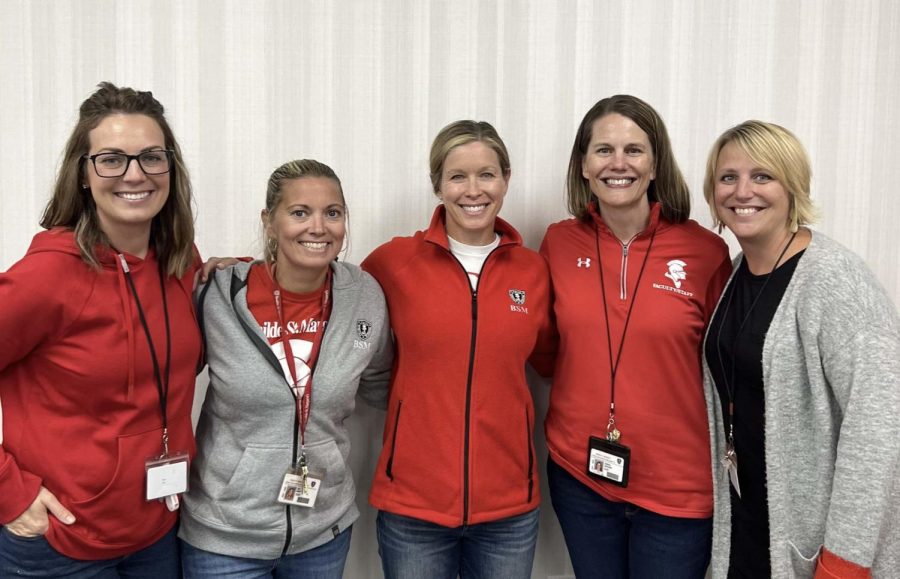 Callie Ebbert
For the past year, Benilde-St. Margaret's administration has been planning the construction of a new College and Career Center. Only three weeks into the school year, the new space has become a hub for collaboration between counselors, students, and administrators.
Last September, counselors brought ideas of a shared office space to administrators. Principal Stephanie Nitchals understood how beneficial this new space would be and that change needed to happen soon. "She understood it would be better for all of us, students and teachers," Anderson said.
The construction crew worked over the summer, and despite supply chain disruptions the new space opened just in time for the 2022-2023 school year. "We were worried that Ms. Haas and Ms. Berry were not going to be able to have their offices by the start of the school year," counselor Heidi Wessman said
The counselors felt the former offices were inadequate because they were connected to the library, you could hear conversations through the walls, and office spaces had doors connecting them. The offices that were located in the main office had so much traffic so it was never quiet. Fellow counselor Amanda Anderson noted that this lack of confidentiality became a problem for the counselors. "I used to have the whole school's networking cables in my office and it was not confidential because everyone could hear the conversations I was having with students," Anderson said.
These new offices have facilitated better confidentiality, collaboration, and communication between counselors. "It really does feel like in the new spaces you can shut your door and things can be confidential. Students are able to feel comfortable sharing how they're feeling here, I think that's gonna be my favorite thing about the new offices," Anderson said.
Additionally, the close proximity of each counselor's office allows them to collaborate more efficiently. "Every time I used to think of something, I'd be like, 'Oh, I guess I need to think about this and write this down for next week. Now, if I think it's something that we should do, or we could do more, I am now able to just walk out in the hallway and say, 'Hey guys just so you know this is happening or what do you think of this,'" Anderson said.