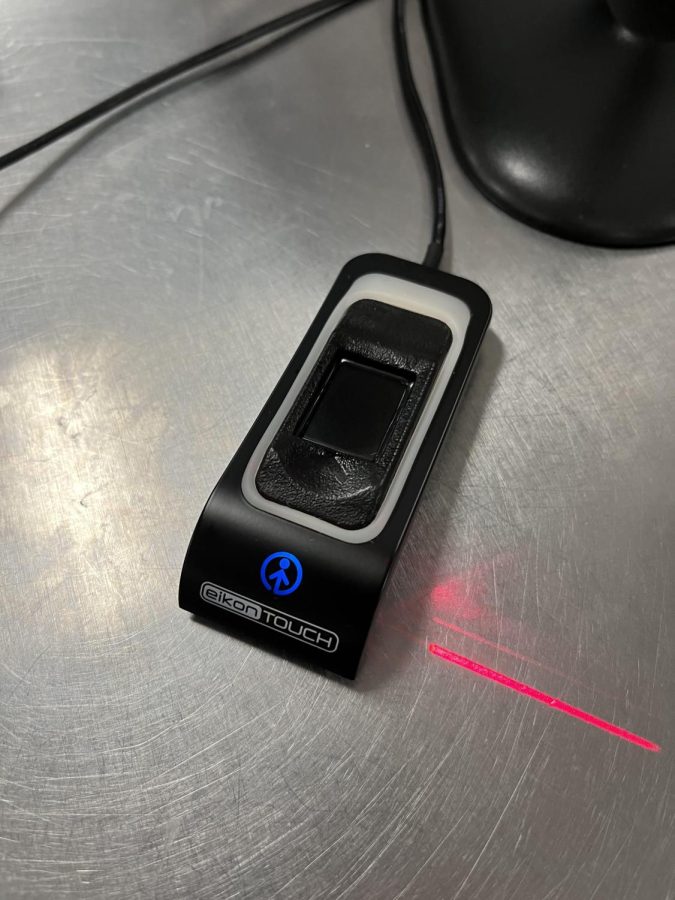 Max Benning
As COVID-19 cases at BSM dwindle, and crowds increase, new technologies are being introduced to accommodate more students. Taher has introduced a new system of checking out your food through a fingerprint scanner, with scanners located at every checkout station. Students still have the option to use their ID card which has been used in all previous school years. All students do to get into the fingerprint system is give Taher their name and put their finger on the scanner.
With fingerprint scanners being implemented it has brought up the debate about which one is better between the ID card and the scanners. Senior Jake Runman still uses his ID card because he is worried about security issues. "I think Taher is stealing my information and selling it and this is why I will stick with my ID card … I'm very afraid that my information would be taken," Runman said.
On the other hand, some students are very pleased with what the fingerprint scanner has to offer for them. Senior Tomas Lee thinks that having the fingerprint scanner is much easier and more convenient than using an ID card. "[The fingerprint scanner] was much easier to use. If I forgot my ID card I didn't have to go buy a new one and spend 5 dollars … I don't think Taher is going to steal my identity, I trust them with it," Lee said.
With the rise in technology comes the potential for technical issues. "I was afraid of running into technology problems. That is another reason why I stayed away from using the scanner," Runman said.
Lee, on the other hand, has never encountered problems with the scanner. He has had a smooth checkout everytime. "The scanner has worked every time for me, I am having no problems at all," Lee said.
Like other customer service companies, Taher is always looking to streamline their processes and make business more efficient for the consumer, and these new fingerprint scanners may play a role in that.