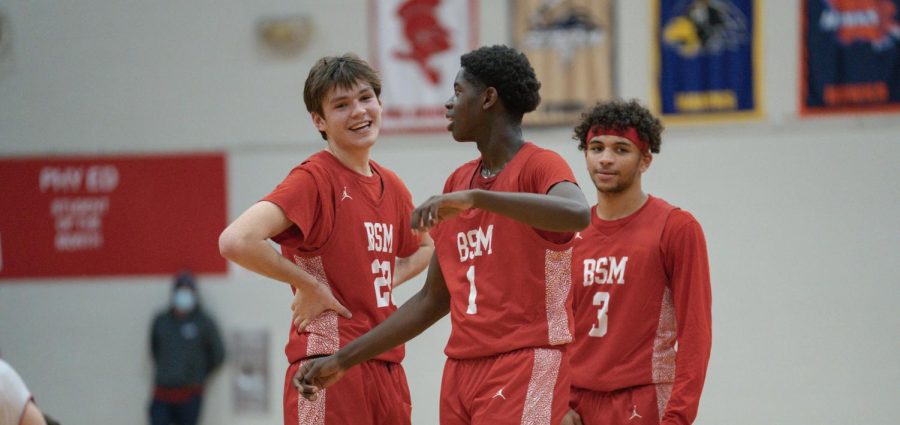 Sullivan Lawrence
After a COVID-19 season just under .500, the boys' basketball team has a lot of potential to be a state contender this year. The team is led by a strong group of starters, consisting of four seniors and one freshman.
The starting group of seniors is Daniel Ijadimbola, Ryan Warren, Sam Best, Maddox Alipate, and freshman Jalen Wilson. "I think we returned a nice group of kids, having three seniors who were three leading scorers as juniors, coming back is big and then we got a good group of young kids who I think will help out a lot as well," said Coach Damian Johnson.
The boys started the season on the right track with a 77-65 win over Mound Westonka. Shortly after, the team added two more wins to the column with a 79-55 win vs North St. Paul, and a 52-38 win vs La Crosse Central (WI). Looking forward at the schedule, the Red Knights have big games coming up against Eden Prairie and DeLaSalle. "We didn't get to play DeLaSalle last year, so we get to play them this year and it's going to be a big game; we're going to invite all our alumni to that game. So it's definitely a huge game and I definitely want to beat them," Coach Johnson said.
With high hopes for the rest of the season, the seniors want to leave a legacy that won't be forgotten and will change the perception of BSM basketball. The team has a lot of high caliber players that can work together to be a successful team. After a great start, the team has made sure to keep their head straight on their goals as a team. "The goals for the season as a team are winning our conference and winning the state championship," senior captain Daniel Ijadimbola said.
Last year was a hard year for the team through Covid in an abnormal season. "What's different from last season is we have more scorers, so focusing on stuff like defense and rebounding is more important as a team because scoring will come easier," Ijadimbola said.
Throughout the transition season, the boys have gotten to build a more personal relationship with Coach Dame both on and off the court. "He's a good coach; he's doing a good job developing kids and getting me personally ready for the college game. He has a large emphasis on defense and that's good because good defensive teams are championship teams," Ijadimbola said.