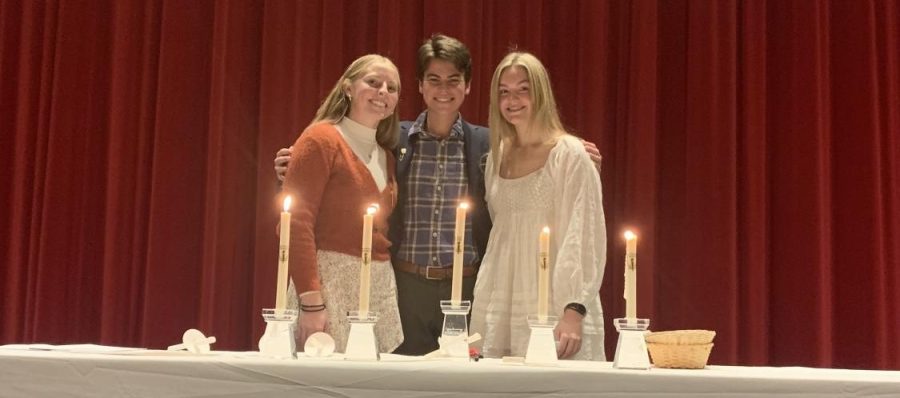 Courtesy of Cami Dahlstrom
On December 1st, National Honor Society welcomed their new inductees in a formal ceremony in the BSM theater.
All new inductees, second year members, and many parents gathered for the annual NHS induction. Students apply in early fall and were notified in November whether they were chosen to be inducted. This year, NHS inducted 62 people, 55 of which were juniors and seven of whom were seniors. New inductees received certificates, while the 84 second year members received their membership cards. NHS is a club that values scholarship, service, leadership, and character.
This year, the induction ceremony was a month later than usual due an incoming new NHS adviser. Rob Epler, the outgoing advisor, thought it would be beneficial to take more time to plan the event so Emily Chmielewski, the new advisor, could learn how everything was done. After having pushed it back a month this year, Epler realized maybe he should have been doing this all along because having the induction in December allowed for the timeframe of the selection process to be a lot less rushed. "So here I am, 22 years into doing this and I like yeah, maybe we should do this every year. So I don't know what their plan is going forward, but I liked it and I thought it was nice," said Epler.
The induction ceremony is very formal and is intended to be the same each year. It is a memorable way for parents to see their children get recognized for an impressive honor. Another reason for the formality is because NHS is a national society, offered to high schools throughout the country. Students are constantly being recognized for being good at sports or earning good grades, but NHS is intended to be different, instead recognizing kids for being leaders and good citizens even if they aren't particularly athletic or have outstanding grades. "We're always publicly acknowledging the students who do well in grades, we're always publicly acknowledging the kids who do well in sports, but we're not always publicly acknowledging the good citizens, the kids of the character, the kids who are showing leadership in the performance service," said Epler.