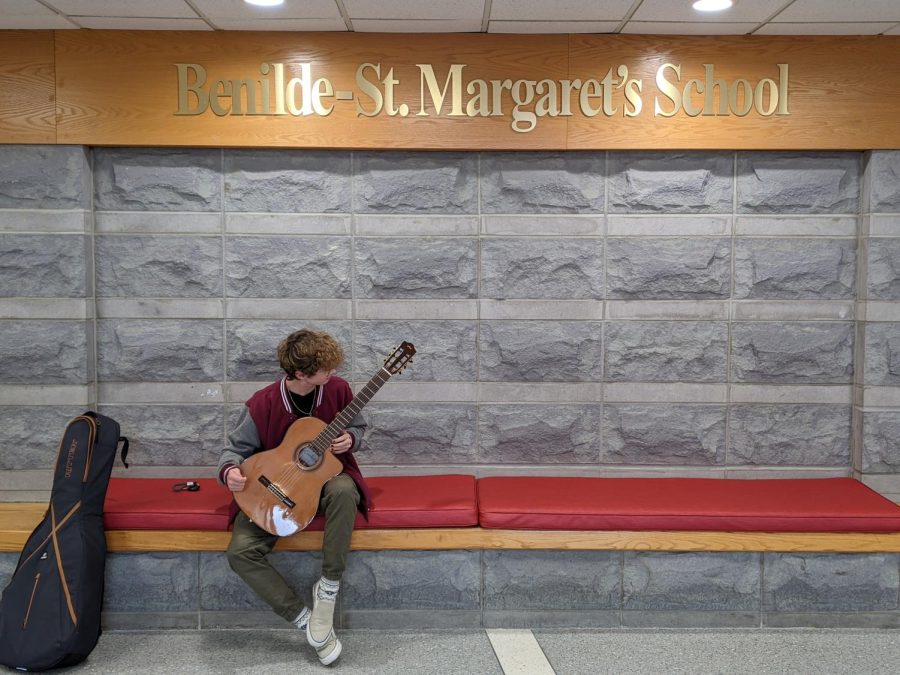 Max Jackson
As seniors at BSM get into the full swing of college prep and think ahead to their future postsecondary lives, some have already dipped their toes in the education that awaits them after receiving their diplomas. Post-secondary Education Options (PSEO), as defined by Minnesota State, is an opportunity for eligible high school students to enroll in college or university courses that earn credits simultaneously for both their high school diploma and their college degree.
A handful of soon-to-be graduates at BSM are participating in PSEO programs to earn college credits that would give them a headstart in their path to college graduation. Students Liam DePauw, Ryan Long, and Maxwell Freytag are all currently enrolled in different college programs, each pursuing a unique set of classes to complement their respective intended majors.
Long, one of two students at BSM who takes classes through the University of Minnesota Talented Youth Mathematics Program (UMTYMP), has been taking his math classes outside of BSM since he was in eighth grade. "I went into this program in eighth grade and I'm still in it now. In seventh grade I took Honors Geometry at Benilde and I haven't done anything here since," Long said.
Even though he doesn't plan on pursuing a college education in mathematics specifically, Long sees the value that UMTYMP will provide for him in his intended field of study. "I don't intend to go into mathematics as a major, but I do want to go into engineering, so with engineering comes a lot of those math classes, a lot of which I have taken in UMTYMP, such as linear algebra and multivariable calculus—those are both very useful in engineering," Long said.
DePauw's PSEO classes look a little different. Currently enrolled in multiple University of Minnesota music programs that focus on guitar, his schedule is the busiest of the three. "I'm taking four classes at the U of M: Music Theory and Tonal Analysis, Ear Training and Sight Singing, Guitar as a Major—that meets up three times a week—and then Guitar Ensemble, which is just an ensemble of guitars. So I'm there every morning, usually until ten thirty-ish," DePauw said.
The program is no small time commitment. DePauw's practice regimen of three to six hours daily is intensive, and balancing high school on top of that is no small task. "My professor expects us to practice three to six hours a day. University classes are a lot more free. You attend less class time per week, but you spend more time working independently. The problem with that is [that] high school is more oriented around attending classes and working in class, so I kind of have a lot of time sucked up here at high school," DePauw said.
Freytag is taking his college classes elsewhere. St. Cloud State University offers asynchronous classes for high school students to take in preparation for their tertiary education. Two such programs, American National Government and Intro to Macroeconomics, piqued the interest of Freytag as he looked for ways to streamline the process of getting a four-year degree in political science. "I'm trying to get out of the credit because [of] what I'm planning to study in college, [and] the classes I'm taking through the PSEO are going to help me get through my freshman year a little quicker," Freytag said.
BSM's approach to getting its students enrolled in these programs is best described as hands-off. Although students who are already enrolled in or applying to such programs get all the support they need from the school, many students aren't aware that the opportunities exist. "I'd never even heard about PSEO before I found it myself online, and BSM didn't even know they had a School of Music PSEO; they said I'm the first person that's ever done this. They had no idea that was a thing. So I'd say I really wasn't made aware of it by BSM. I'd say they helped me out with the application, but they definitely didn't bring it to my attention that this is an opportunity I could do," DePauw said.
However, with Principal Stephanie Nitchals now at the wheel, BSM may become more involved in the process of getting its students enrolled in PSEO programs. Some plans for expanding BSM's role in PSEO support are currently underway. "We want to give students as many opportunities as possible to explore what they are interested in. We are working on a partnership with St. Mary's who is offering asynchronous, online classes for our students," Nitchals said.
PSEO programs provide a unique opportunity for students who are interested to flex their academic muscles and get a taste of what the college classes they plan on taking might be like. Even though they present a challenge, students who see the value in PSEO programs could end up with an experience that they will be grateful for. "As with all math, real world applications can be really hard to find, but I still find the information intriguing, but it's challenging and it keeps you busy," Long said.