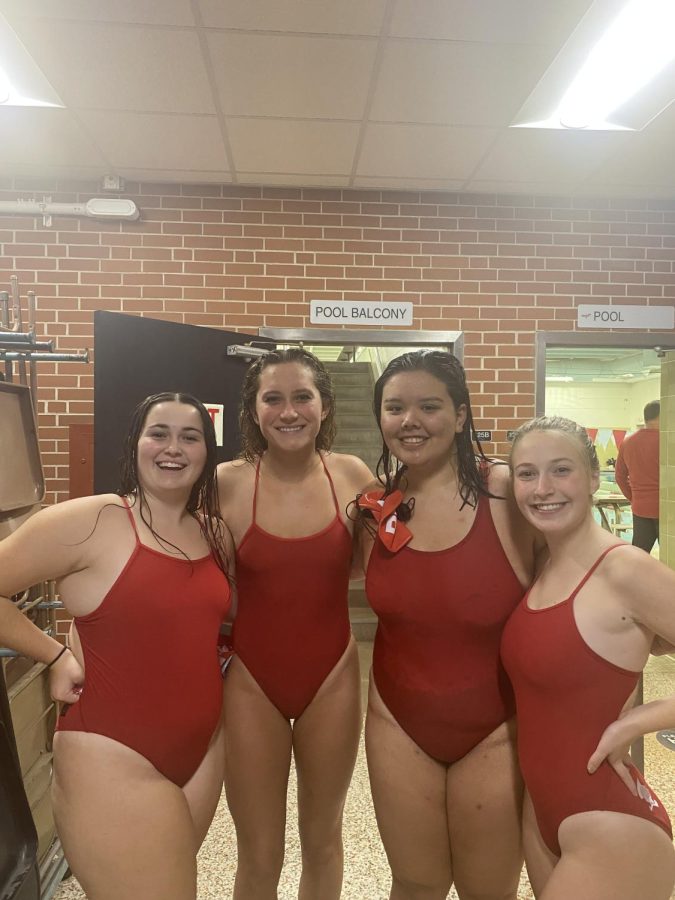 Lindsey Layton
The 2021 BSM girls' swim and dive team had their senior night on October 26th at St. Louis Park Middle School vs. Cooper. During their intermission, they celebrated the seniors by giving them a bouquet of roses and were applauded by the crowd.
Four of the seven seniors did a freestyle relay race which consisted of Sydney Holinka '22, Elleann Lowery '22, Katherine Foe '22, and Henna Yeak '22. It was Lowery and Foe's first swim race as they usually compete with the dive team. "I was nervous but I kinda knew what I was doing from past experience but it is intimidating swimming with girls who do this all the time and are good at it," Foe said.
Since it was Lowery and Foe's first swim meet, Holinka, Yeak and other seniors had to assist them in learning the traditions and fundamentals of swimming. The relay team got fourth with a time of two minutes and 15 seconds. "Considering that we had two divers that don't regularly swim competitively it was a decent time," Holinka said.
The chemistry at the meet was unmatched. The swimmers lifted each other up and cheered for the teammates nonstop. "Although I was anxious about competing for the first time, my teammates' unwavering support and encouragement increased my confidence tremendously," Lowery said.
The swim team won against Cooper 93-48. This will boost the team's morale going into sections which starts November fourth. Even though the senior season is coming to an end and they will soon be off to college, some of them will continue to swim competitively or recreationally. Congratulations to the senior relay team as well as senior swimmers Addie Kelly '22, Gemma Parish '22, and Tallulah Johnson '22.