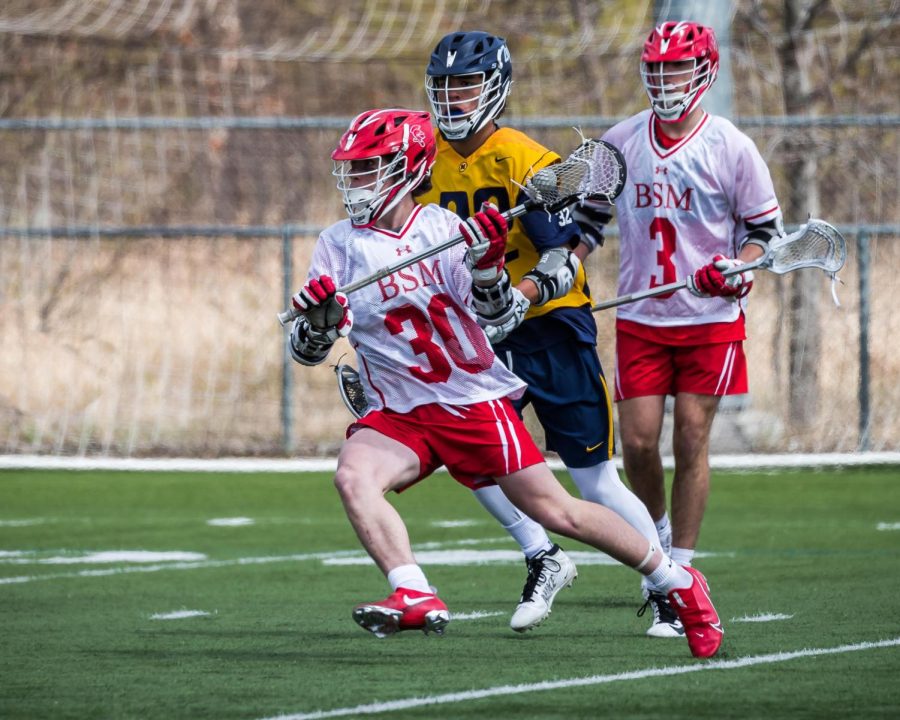 Drew Clark
The boys lacrosse team has been a top team in the state for many years, producing many Division I and All-American players. After winning the state championship this year, sophomore Sky Rold was a pivotal player in the Red Knights' success.
Right away in his freshman year, Rold has been a strong addition to the team and has proven to be a top player in the state. Rold transferred to BSM for the start of freshman year. Having not yet even played in his sophomore season, Rold has high aspirations to play at the collegiate level. If Rold continues to produce at a high level, he could have many options before he has to make a college decision. "I previously went to Delano, but I came to BSM mainly for lacrosse but also for a better education. My top three schools currently are Georgetown, Johns Hopkins, and High Point," Rold said.
As a lacrosse player at BSM, it is rare for a freshman to be starting. Rold has quickly produced as a freshman on a top team, and it can be backed up by his stats. The now sophomore midfielder had a very successful freshman season with a total of 16 goals and 11 assists.
With a record of 17-1 and a state championship, the midfielder has high hopes for both himself and the team next season. As an underclassman on the team, Rold is already trying to make the players around him better. "I want to develop more as a team player and learn more leadership skills for when I am an upperclassman. I also want our team to come together more and make all the new guys feel welcomed," Rold said.
Not only has Rold been producing in the high school season, he also has been playing club lacrosse during the off season. Club lacrosse differs from high school, because there are players from all over the state which drives the competition and level of play up to make a top team. It also is a better way to get recruited through showcases and traveling. In club lacrosse, athletes get to play clubs from different states and compete with the best players around the country. "I play for True MN, West Coast Starz, and True National. We mostly travel on the east coast for showcases and tournaments," Rold said.
The BSM boys' lacrosse team had previously been to the state championship three times and lost all three. With the state tournament being canceled last year, the revenge continued for the team, as another group of seniors had not gotten the reward of winning state. The team has high hopes again coming off a great season. "Winning state was a surreal feeling of accomplishment that we all deserved. I think we have a good chance this year if we work for it," Rold said.