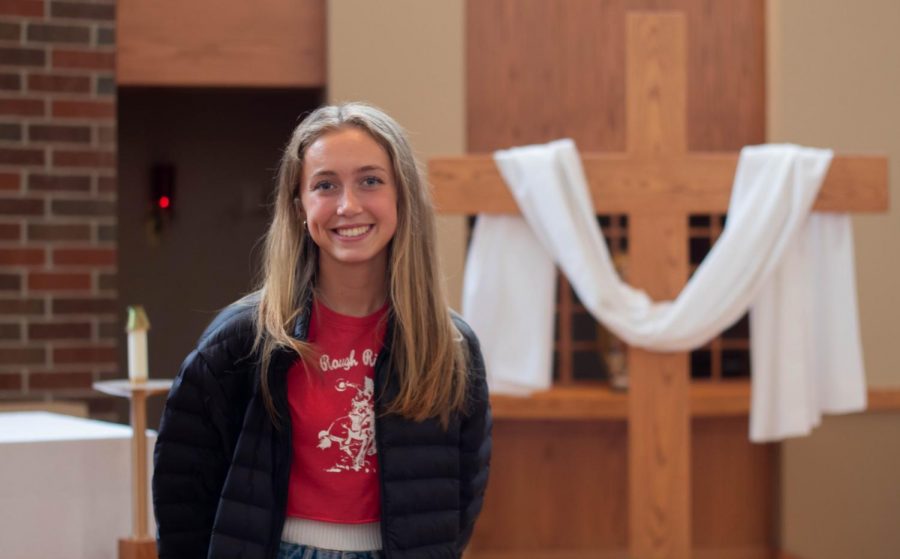 Demi Mills
Senior Demi Mills's hard work and perseverance has paid off throughout her high school career as she has successfully maintained a 4.0 GPA and earned herself the title of valedictorian. Mills attended Buffalo High School her freshman and sophomore year and then transferred to BSM her junior year.
Mills wasted no time in getting involved in the BSM community through many extracurricular activities. "I played volleyball and lacrosse at BSM as well as club lacrosse year round. I am also a member of National Honor Society and RKVC," Mills said.
Balancing these extracurriculars with school work was not always smooth sailing, especially on game days, but Mills always made sure to prioritize her school work so that she would be prepared for her next day at school. Mills also managed to juggle her social and family life with school and extracurriculars. "I was able to maintain a balance between social life and academics by prioritizing my friendships and family time. Hanging out with my friends and family was crucial to balancing home and school," Mills said.
While no year in high school is easy, Mills noted that her junior year posed the most challenges. "Junior year was definitely my most demanding year. With difficult classes, preparing for college, and studying for the ACT, I was definitely challenged. Throw in a pandemic and distance learning, and it is a year I won't forget," Mills said.
Furthermore, junior year was when Mills was faced with her most challenging class. "Biomed was probably the class that gave me the hardest time. I took it junior year, and while it definitely challenged me, it is also my favorite class that I have ever taken," Mills said.
This class is not a traditional class as it poses many new challenges for students. "I had never experienced a class that was so hands on and interactive. We would go through multiple body systems and would apply our knowledge in tests, case studies, and dissections. The assessments were not asking us vocabulary and simple terms we learned, but rather they would ask us to apply our findings by explaining them and even diagnosing fake stories and people," Mills said.
Mr. Mark Peterson, the teacher for Biomed, noted Mills's excellence in his class even while being a remote learner in such a hands-on class. "Even as a remote learner, she was definitely a senior leader for the class, and recognized as such by a mostly junior population. During the third quarter, Demi appeared on campus and her in-person presence provided even greater leadership. Her self-motivation modeled for other students how to handle a difficult workload. Her curiosity for the performance tasks of the College Board allowed her to find challenging and interesting questions to research, answer, write about and present," Peterson said.
Mills has worked hard all throughout high school but not with the sole purpose of becoming a valedictorian. "I did not specifically work towards becoming a valedictorian, but rather just doing my best in all of my classes," Mills said.
The grind has paid off for Mills as she will be attending the University of Notre Dame in the fall and studying biology on the pre-med track.