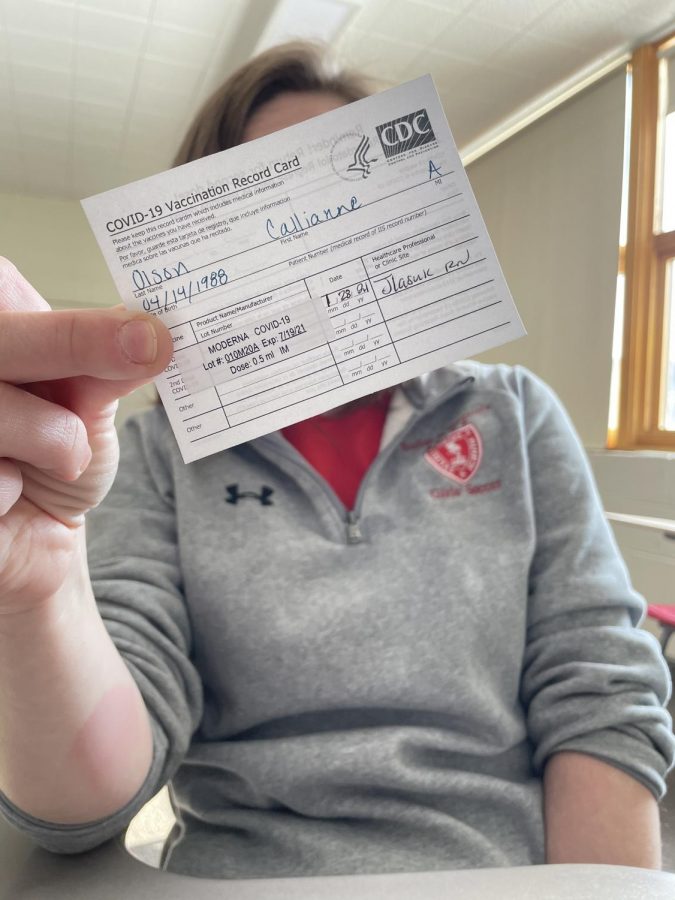 Theresa DeCesare
The first wave of the COVID-19 vaccination was officially released to educators on January 28, 2021. Teachers from across Minnesota rushed to sign up for the limited vaccination slots.
English teacher Calliane Olson was one of the fortunate teachers at BSM to get a spot for the vaccine. "I was honestly super lucky. I got in right away because I wasn't teaching; I got the email for the COVID vaccine, and I signed up instantly. All of the slots filled up immediately," Olson said.
Guidance and college counselor Amy Larson was also able to sign up for the vaccine, along with the four other BSM counselors. "The BSM counselors were in a meeting and we all 5 signed up at the same time. We were really lucky; that same day we had a meeting with other high school counselors and we were the only group of counselors that got to sign up," Larson said.
The email to sign up for the vaccine was sent out to all Minnesotan Archdiocese employees at once, with only 1,400 vaccinations within the pool. The urgency to receive the vaccine and the limited amount of open slots caused the whole situation to be quite stressful and competitive. "The way it worked was that if you tried to sign up for a slot that was already taken, it would erase everything and you would have to start over. At that point you wouldn't even get a spot, and you are just put on the waiting list," Olson said.
Despite the tension and fear, BSM Covid coordinators continuously searched for vaccination openings for the teachers that were not able to sign up. "BSM did an amazing job of staying on top of things and helping the teachers that were not able to sign up; they're doing a good job keeping us safe," Larson said.
Once a teacher signs up for an appointment, they immediately schedule a follow up and fill out a form regarding COVID symptoms. It is expected for them to show up to their appointment 15 minutes early and they are provided with a second mask at the vaccination site. "When I went, it was actually run pretty well. You were put in one line, then went into another room then into another line. After waiting for a while, you are put into lanes by the National Guard. Then you get your vaccine, and after you get your vaccine you are placed in a waiting room for 15 minutes in case you have side effects," Olson said.
Each vaccination site operates differently and every person has their own experience getting the vaccine. Whether the experience is good or bad, each BSM recipient of the COVID-19 vaccine is relieved and fortunate to have the limited opportunity. "BSM did great and they're still doing great. Our administration is on top of it and they're making sure that teachers are still getting the opportunity to get the vaccine," Larson said.