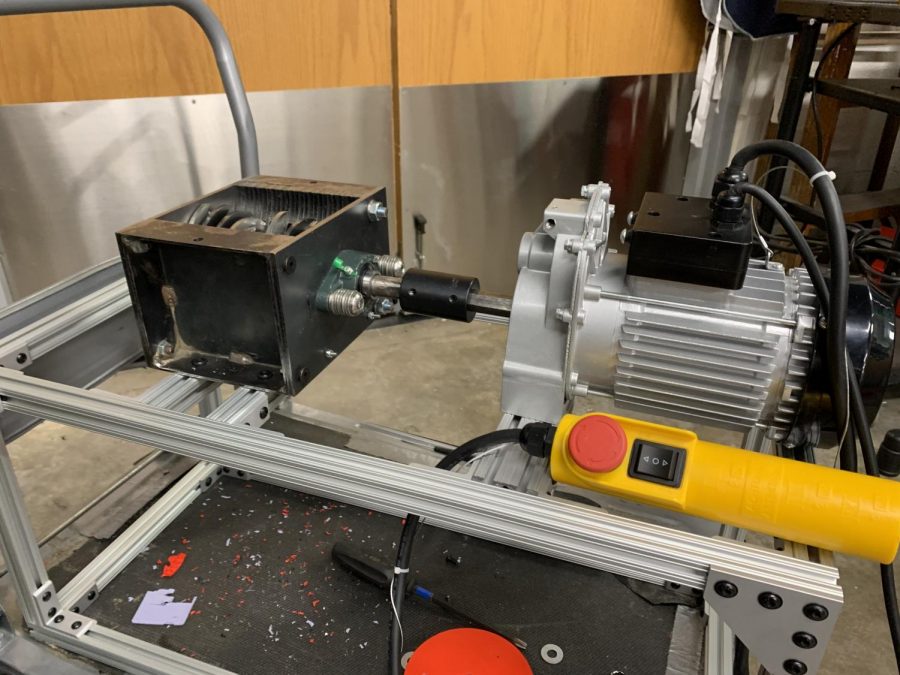 Courtesy of Tom Worrell
Senior Tom Worrell  is using his engineering skills to create a green machine for the Red Knight's engineering room.
Worrell is building a 3D Printing Material Extruder & Shredder. In simple terms, a 3D printing material extruder and shredder shreds plastic and then creates the 3D printing material used in Benilde-St. Margaret's many 3D printers. The shredder can shred all types of plastic and is the essential first step of Worrell's project. "It will crush through any plastic we give it; the thing that is stopping me is the motor has so much power it is slipping over the axle," Worrell said.
Worrell created the shredder because in engineering students create a lot of 3D prints, but some prints fail or break. This is why Worrell created a shredder to reuse and reduce BSM plastic waste. "Because we have so many prints that don't end up working…being able to recycle our own film sounded like a good thing to save money and plastic," Worrell said.
Tom Worrell's project was originally an unfinished engineering project, but the previous group's project had some flaws. "I pretty much restarted from scratch.  I started by building an all new frame," Worrell said.
Worrell's second part of the project is the 3D printing material extruder which will reuse the old plastic into new plastic film that can be used to print again. Worrell has been ordering parts for this machine and has even collaborated with a group at St. Paul Academy who are also creating an extruder. "From the website precious plastic I have been getting parts from there; also I reached out to a group in St. Paul doing the same project," Worrell said.
Tom Worrell's project is aiming to help make Benilde-St. Margaret's a more self-sustaining school and adding one more attraction for the engineering room.