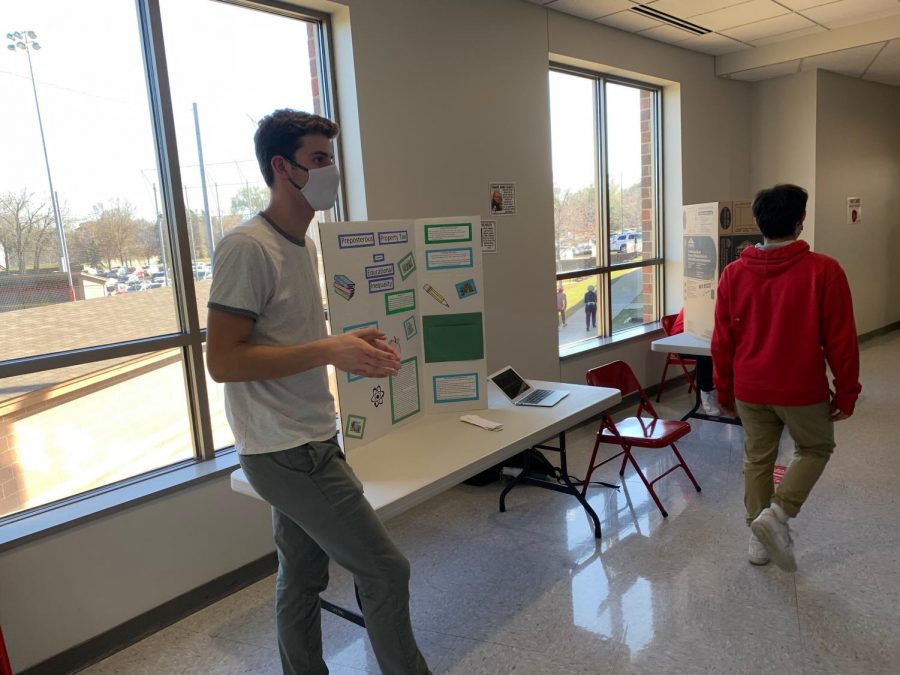 Sam Best
With all the uncertainties going on right now and events across the school, state, and country being canceled, BSM was still able to carry out their annual Senior Justice Fair. The Senior Justice Fair is hosted by the senior Faith in Action class. The event is an opportunity for students in the class to present their advocacy projects that they have put countless hours into.
This year had a few minor changes to account for social distancing and for everyone's safety. In years past, all of the presentations would be in the same place and right next to each other so viewers could move from place to place. This year, the majority of the presentations were in the atrium and the theater hallway, with all stands distant from one another. About 15 other seniors presented their projects in theology classrooms.
On November 3 and 4, students were able to walk around and watch the seniors present. There were people presenting each hour of the day. Each speaker presented multiple times over different periods of the day. "I presented once to Mr. DeLozier's first hour class, and then about 10-11 more times over the course of seventh hour," senior Theo Pohlen said.
The advocacy projects being displayed had a wide variety of topics, with each being something the student felt passionate about. For example, Pohlen spoke about education inequality, an important issue going on today that many people do not know about. "It was fun to inform people about a topic I care about," Pohlen said.
The large range of topics discussed made it easy for audience members to find a stand that they wanted to hear about. Senior Lucio Fialo spent his time at the fair discussing family separation at the U.S.-Mexico border. Fialo spent first period in theology teacher Mr. John DeLozier's class and showed his project to freshmen, then went on to have his project near the entrance of the atrium. "I presented in Mr. DeLozier's class in the morning and it was cool to introduce my topic to freshmen and discuss and also tell them about the Faith and Action theology class itself. Later, I had my poster set first and there was normally a huge crowd of students I was presenting to," Fialo said.
The best part about the fair for the seniors was being able to share their topics with people. People asking questions and listening to the speakers made the seniors feel their hard work was not going unnoticed and the listeners were interested in what they had to say. "I personally liked being asked questions because it meant that the people were actually listening and interested in my topic so I enjoyed answering some of their questions," Fialo said.
The Justice Fair was able to go smoothly even through COVID. The Faith in Action class worked through the obstacles and was able to figure everything out. Seniors who take the class get the opportunity to share their work with others in their chosen subject. "I 100% recommend taking this class to future seniors. It is a class and project where you get to talk about what you want, not that the teachers decided; it is very enjoyable, " Pohlen said.