Thriller: Zodiac
October 7, 2020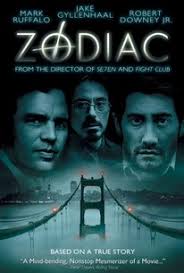 Zodiac is a 2007 crime thriller film directed by David Fincher and written by James Vanderbilt, based on a true story. The film stars Jake Gyllenhaal, Robert Downey Jr., and Mark Ruffalo as reporters and investigators. Zodiac tells the story of the search for the Zodiac Killer, a serial murderer who terrorized the San Francisco area during the late 1960s and early 1970s. The Zodiac Killer taunted the authorities with phone calls, letters, blood-stained clothing, and ciphers sent to newspapers. The case still remains one of the most infamous unsolved crimes. 
I typically hate crime/thriller/mystery movies, but Zodiac pleasantly surprised me. David Fincher did a terrific job making this film watchable for all, proving not all thrillers have to necessarily be 'scary.' What it lacks in fear factor, it makes up for in plenty of gripping twists. It's definitely a disorienting movie, but Finch, without a doubt, had ambition, which I feel was noticeable. Every person they thought to be a suspect, Finch made it seem so believable that it was the Zodiac Killer, that if it wasn't, you were disappointed. Despite the movie being 2.5 hours long, it was certainly never boring; I was on the edge of my seat the whole time.
---
All these movies were great in their own ways, but if you do only have time for one, I would definitely choose Zodiac. The actors played their parts extremely well, as we see the tension build with the characters and the plot. Every scene was designed so creatively and executed so well, that the movie's like a piece of art.