Jane the Virgin provides an ideal distraction to lift your spirits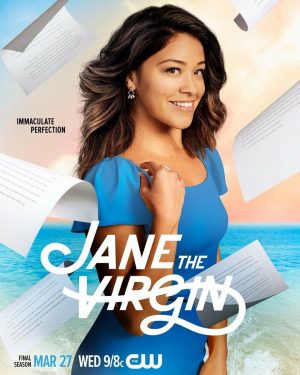 This new model of school has given students and teachers lots to stress about. If you're looking for a show that will lift your spirits during these stressful times, I recommend Jane the Virgin.
Jane the Virgin is without a doubt one of the most underrated shows currently available for streaming on Netflix. After finishing all five seasons over the original three-month quarantine, I have almost successfully completed watching it a second time through already. It is a show that I would never have expected to love so much, but after watching one episode with a friend, all I wanted to do was go home and watch the rest for myself.
The show adopts the style of a telenovela, making it more engaging than traditional shows. The style of the show is such a refreshing change to television. All the colors, editing, magical realism, and the presence of a narrator, make it funny and captivating. For example, the narrator, whose identity is revealed at the end of the fifth season, makes multiple comedic remarks throughout the show and provides a light-hearted tone for the show. Another example of the show's novel detail is it's magical realism or bringing inanimate objects to life. This not only keeps the show enticing but adds to the creativity of it all.
The story is about a young woman, Jane Villanueva (Gina Rodriguez), who is goal-oriented, responsible, and an aspiring romance novelist. She has a well thought out plan for her life, but when she is accidentally artificially inseminated, her life spirals into a series of crazy events… similar to those in a telenovela. Including affairs, murders, blackmail, drug lords, love triangles, fake deaths, kidnappings, evil twins, and much more.
Along with the extremely clever and detailed plot, the character development and chemistry is amazing. This is especially shown through Jane, her mother, and her grandmother, all of whom she grew up living with. Their relationship and interactions are heartwarming and relatable, revealing the value of family. Even though Jane the Virgin is an extremely heartwarming, funny show, the characters are often confronted with a variety of twists, turns, and mysteries that continuously appear throughout the story. Just when you think the plot has calmed down, the show throws another plot twist at you.
Jane the Virgin is a perfect balance of romance, comedy, and mystery, and is a perfect way to lift your spirits and give you something to look forward to during this stressful year.