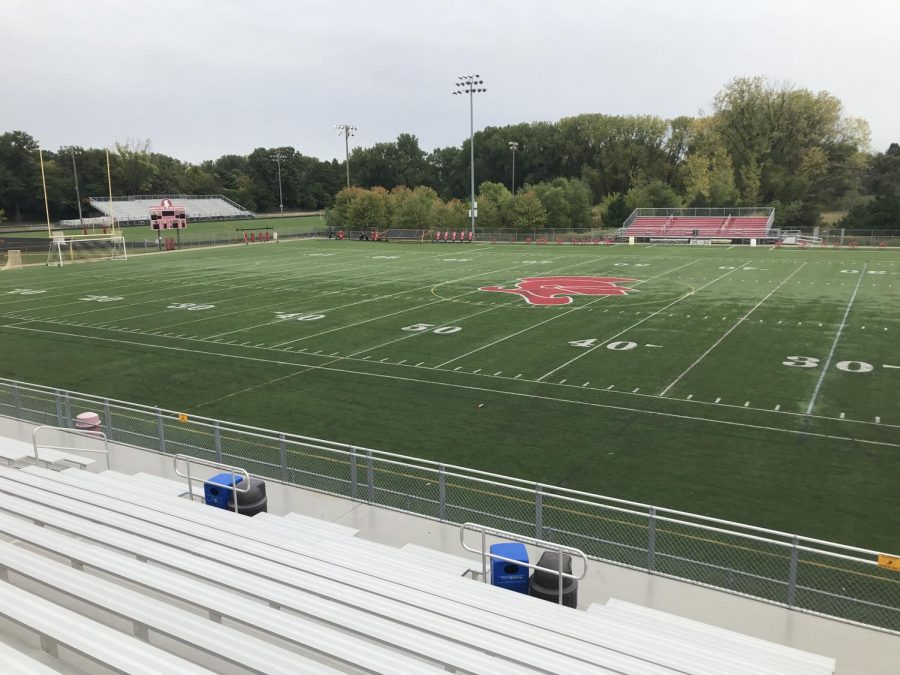 Charlie Damberg
On the first Friday night of the school year, there was an eerie silence in the football stadium. For the first time in decades, the football team is not playing––their season postponed by the Minnesota State High School League (MSHSL) due to concerns surrounding Covid-19. This decision drastically alters the experience of both fall athletes and students hoping to spectate.
When the MSHSL met in mid-August to decide the fates of fall sports such as football, soccer, and volleyball, senior soccer captain Hans Backes and his teammates already had their noses to the grindstone. "We had absolutely no idea what was going to happen with our season. We found out after a summer practice, and all of us were extremely excited to be able to have a season," Backes said.
Football and volleyball were not so fortunate. In a surprising move, the board voted in clear majority to move football and volleyball to the spring season. "The soccer example, in my opinion, was a blatant sign that it really wasn't about our safety. They are allowing up to 250 fans in a stadium, which is a number football could easily get under, as we are perfectly willing to play without fans and tighten up roster spots," senior football captain Nick Marinaro said.
The executive move by the MSHSL is understandably frustrating to both football and volleyball players, especially because of the success soccer has had dealing with COVID-19. Their preventive measures include wearing masks before they get on the field and while on the bench, daily temperature checks, and no more handshaking after games.
Another strategy employed by the soccer team has been to go to online learning for their fall season to reduce any possibility of contamination, quarantine, and subsequent forfeiture of games. "Some of the players and coaches were talking over the summer about how students have the option of going fully online and whether the team would be willing to go fully online. Some people simply couldn't be fully online, and we knew we had to respect that, so it wasn't mandatory. I think about 60-70% of us are online right now," Backes said.
Nonetheless, the soccer players are grateful to have a season and understand the struggle of their friends playing football. "We later found out that football had been moved, a lot of the soccer guys are empathetic towards football players. We're not sure what exactly went into that decision, but we know the football players are hurting," Backes said.
Athletic Director Jerry Pettinger is in charge of coordinating sports schedules and maintaining the athletic programs, and he has played a big part in making sure athletes can get a fall season if the state allows it. "I thought the [MSHSL] would go through with all of [the fall sports] and shorten the seasons," Pettinger said.
Many are unsure as to why these two specific sports were moved. "I think the main concern for volleyball is because it's an indoor sport," Pettinger said, "I don't think there has been enough football played for the [MSHSL] to know what the close contact is like."
Fans love to watch the school's teams compete, but this year it's different. "Nobody can attend swim meets… both soccer and cross country have limited numbers of fans and family members who can attend their games and meets," Pettinger said.
Many people worked to make the necessary decision for the players' safety, as well as the fans. "There is no right or wrong answer, I trust the [MSHSL] to make the right decision as they have access to much more information, such as the Minnesota Department of Health, looking at those guidelines put forth," Pettinger said.
The fall sports volleyball and football, now set to play in the spring, don't have exact start and stop dates scheduled. This makes it difficult for coordinators to schedule these seasons when the time comes. There is no telling what the spring will look like and how these sports will be played yet. "I think the [MSHSL] is hoping to have more information and data regarding playing safely," Pettinger said.
Players with goals of scholarship opportunities won't be able to play their seasons in the fall, which could have an effect on their collegiate opportunities. "Though the recruiting process may be delayed, I think that the players with goals to reach the next level will reach those goals," Pettinger said.
As most states are playing all fall sports this year, football and volleyball players––especially seniors––in Minnesota might struggle to get the looks they deserve. "I had a good junior season, but I knew I wasn't playing to my full potential and I only played half the season due to injury… over the offseason I got bigger, stronger, and faster, but now it's looking like I won't have any chance to show that to college coaches," Marinaro said.
This week the MSHSL stated they will be holding a special meeting on Monday, September 21 to reinvestigate the hopes of a fall season for football and volleyball after a surge of letters, e-mails, and phone calls from athletes, fans, and parents regarding the loss of the fall season.