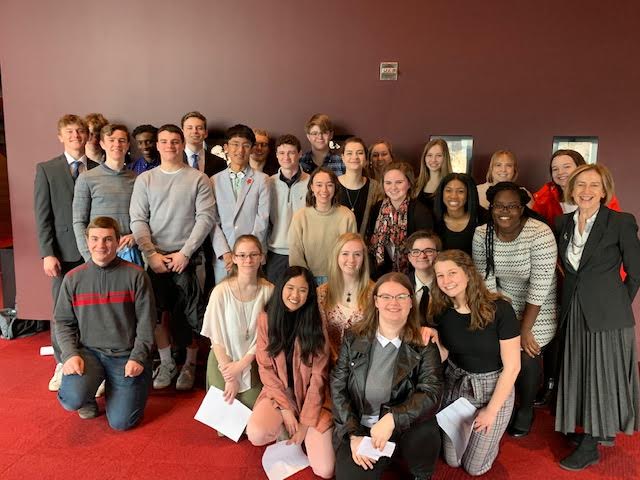 Courtesy of Maura Brew
Two classes taught by Mrs. Brew, Shakespeare and AP English Literature traveled to a performance of Twelfth Night on Thursday, March 5. Twenty-nine students made the trip to watch a classic Shakespearean romantic comedy as well as attending a pre-play activity, both of which were at the Guthrie Theater in downtown Minneapolis.
Visiting the play worked well for the curriculum of both courses as both classes were familiar with the story of Twelfth Night. AP Lit had finished the play during the first semester, while the Shakespeare class had just recently finished reading it. Brew thought that watching the Twelfth Night would be a necessary experience for students that wanted to understand the depths of Shakespeare. 
As the students traveled to the Guthrie Theater around 9 in the morning, they arrived well before the play's actual start time. Instead of heading to the theater seating, however, the classes shared a pre-play activity with all the students. In a space on level 4, both classes got into the classical mindset as they all created Shakespearean insults and abuse to hurl at one another. Joe Marinaro, a senior in AP Lit who went to play, enjoyed having fun with his classmates while still going along with what they were learning for the day.  "I learned that Shakespearean insults can be just as funny as insults I use today," Marinaro said. 
Brew was excited for her students to experience what they had already read in class in an entirely new medium, which was how Shakespeare originally envisioned Twelfth Night to be viewed. She felt the comedy would reveal itself to the students, like the play itself Twelfth Night is a romantic comedy.  "Every play is designed to be seen as opposed to reading off the page so I'm very hopeful that all the vibrancy of the comedy will come across, and all of the comedic lines will really ring in a way they don't when we just read them aloud in class. I hope they will see a richer sense of character through the actors in the play," Brew said. 
After watching the play in person, Marinaro shared the same belief as Mrs. Brew, where being able to see real actors on stage performing helped him understand the story in an entirely new light. He thought that the play was a worthwhile visit, and was glad his class could go to one of the plays that they had read. "Though Twelfth Night was not my favorite play that we read in class, I still enjoyed getting out of school to go watch it," Marinaro said.