BSM girls' varsity basketball brings back their iconic pregame pants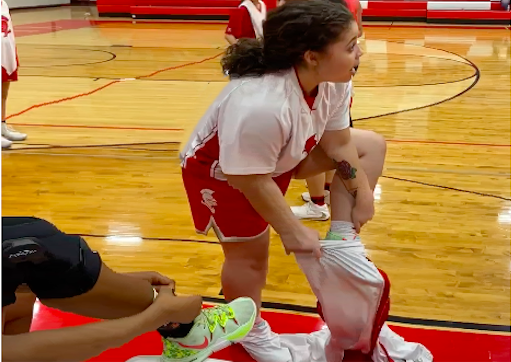 Before his retirement this year, Bob Lyons had coached the girls' varsity basketball team for over 20 years. The team's iconic statement throughout his years of coaching were retro tearaway pants, worn by players during warmup time. Eventually, tearaway pants fell out of style and the players stopped wearing them, but this year, the team has brought back the pants to honor Lyons's retirement after his years of valued coaching.
The pants have buttons down each side, allowing for peak 'tearaway' action and adding to their retro appeal. Some of the team members love this aspect. "I do like them because they help my warmup be more efficient cause I get warmer, faster…we originally had them just for Bio night…us older players and the team coach were just like 'hey, we should wear these every game," junior Sophie Coleman said.
Other players, however, think the pants interfere with the efficiency of warmup time. "Sometimes the pants don't unbutton all the way and there are issues so it just takes longer…I feel like they were fun for the one night, but now that we have to wear them often, they're kind of getting annoying,"  JV player Maria Hasper said. Other complaints about the pants revolve around their ill-fitting styles or stained appearance. "[The tearaway pants] are gross and dirty and have stains on them and stuff," Hasper said. 
When it comes time to rip away the pants right before the game begins, the players' attempts to tear off the pants are often hindered by uncooperative buttons. "We laugh about it because we think we look a little funny, but it's fun, yeah," Coleman said.
This year's Varsity team is significantly younger than usual, with four eighth-graders and eight underclassmen making up over half the team. The pants are inspiring for the young players. "[The pants] just give us the vibe that 'we got this,' and we have the support of the generations before us," sophomore Anisah Wolf said.