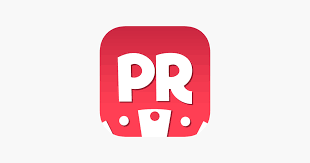 Photo Roulette logo, Fair use
"Photo Roulette" is a free IOS app where photos are randomly drawn from you and your friends' camera rolls and the primary goal is to guess whose phone it came from. This game creates funny, nerve-wracking, and most definitely awkward environments for people to experience, but it's a great way for people to waste time in a fun way.
The game begins by joining a lobby through a code, very similar to how Kahoot works. Once 2-10 people are in, the game begins. However, prior to playing, if someone has bought the pro-version of the game (I have) for $4.99, they have the ability to plant a photo within one of the rounds––whether it be to throw people off or to simply embarrass one of the other players. 
Once the game begins, a photo is shown from a random player's camera roll and names are listed underneath as the options players are able to guess. There are no restrictions on what can be shown––if it is within your photos, it can be used. 
There are 15 rounds within a single game and scoring consists of who answers the most correct and who answers the fastest. Throughout the game, screams and shrieks of laughter or embarrassment are common due to people being exposed in the game. Yet, this embarrassment fades into joy as playing with friends means that no one truly cares. There is even an option for Video Roulette where videos are drawn from each player's camera roll, but this requires the pro-version (again I bought this, very worth it).
Personally, I love the app Photo Roulette. My friends and I have played countless times and each time a new photo arises that brings us to tears from laughing. It is both hilarious yet scary to play due to the unknown nature of what will pop up. 
My camera roll consists of over 2,000 photos, so I just simply do not know what might appear and potentially expose myself to the other players. However, the exact same thing could happen to someone else which is most definitely worth the risk of playing. Whether it be an embarrassing shirtless mirror pic or a super-soft picture with a girlfriend, the randomness and humor that comes with this game creates a great environment. 
As said earlier, I bought the $4.99 pro-version, and this was most definitely worth it. Being able to plant a photo within the game with the sole purpose of angering another player is a great power to have. Also, Video Roulette is even better than Photo Roulette because being plain and simple: videos are funnier.
In the end, this is a great app to play with friends as it creates a very exciting and carefree environment that produces laughter and happiness. It's interesting to see how well each player knows the other people as certain photos simply match or reveal someone's personality within the game. The game is free to download and play, and the memories it will both recall and create a fun environment for players to experience.