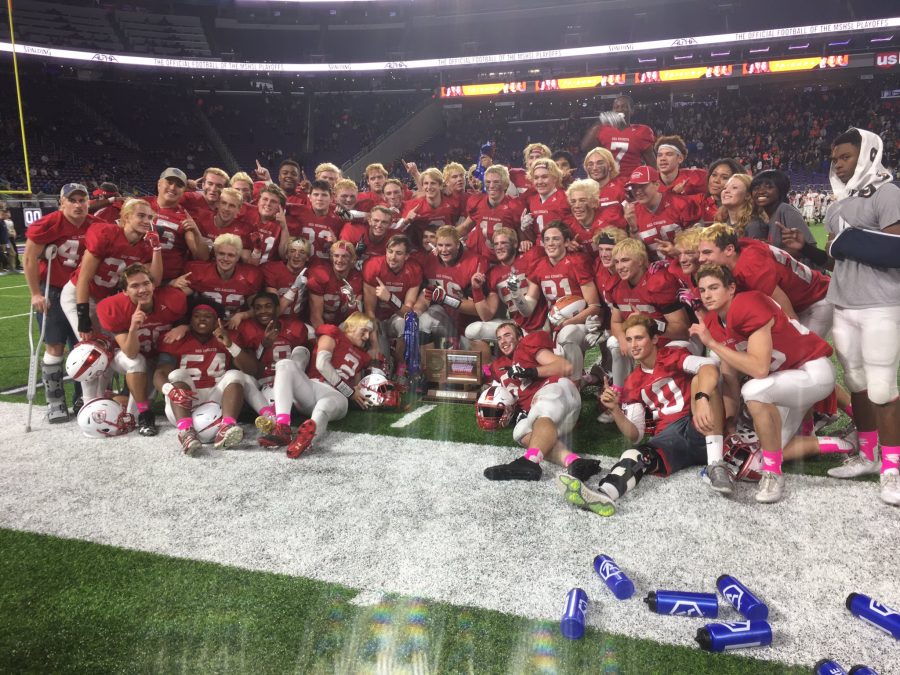 Courtesy of Bill Cheney
The 2016 Benilde-St. Margaret's football season: a rollercoaster season in which the Red Knights endured injuries, suspensions, and tough losses, but one that also consisted of chemistry, triumph, and an unlikely state championship run.
Even now––nearly three years later––the impact of the team can still be felt throughout the BSM hallways. Ears perk up when names such as Eric Wilson or Will Whitmore are mentioned, and BSM football fans smile when reminiscing about Ricky Floyd breaking out 80-yard touchdown runs and hurdling defenders on the turf. Co-head coaches Jon Hanks and Pat Krieger gathered their players and made it a priority to not only find success on the field but also off of it through chemistry building and establishing a football family.
Since that win, the Red Knights have twice made it to the section championship, with this year's team finishing with a record of 9-1, going undefeated in the regular season for only the second time in school history and being the first BSM football team to win nine straight games.
So, what was it like winning a state title?  How has that state championship win impacted the BSM football community? Looking back at that championship season and its impact, this series of firsthand accounts from past and present players, coaches, managers, parents, and fans is an oral history of how the 2016 football team stepped up to put BSM on the map as a football school and delivered BSM its first––and only––football state championship.