Three sisters make great addition to girls' tennis team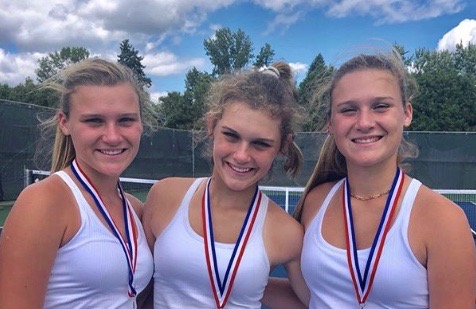 The Kallas's have been a welcome addition to the BSM girls' tennis team. All three sisters have a visit to Zonals under their belt. Says Brooke, "I was among the top 12 players in our section of the country. We travelled to Kalamazoo, Michigan to compete against other teams from across the country." Even with experience like that under their belt, the Kallas twins find high school tennis "very exciting," Brooke said.
The Kallas sisters started playing tennis around age 5 and although they played other sports throughout the years, tennis has been the one sport they stuck with, partly because of their mom. "My mom played D1 college tennis and wanted to share her passion for the sport with me and my sisters," Courtney said.
Big sister Courtney is an experienced varsity tennis player, with three years on BSM's squad, but twins Brooke and Lauren are newbies to high school tennis. Going into 9th grade, the twins had a tough decision to make, Wayzata or BSM? According to Brooke, older sister Courtney helped make the choice a lot easier. "It is so much fun representing BSM and playing tennis with your friends," Courtney said.
Leaving Wayzata won't be easy, "I will miss all my friends that I have grown close with over the past two years," Lauren said, but the girls have found a new home with BSM girls' tennis.