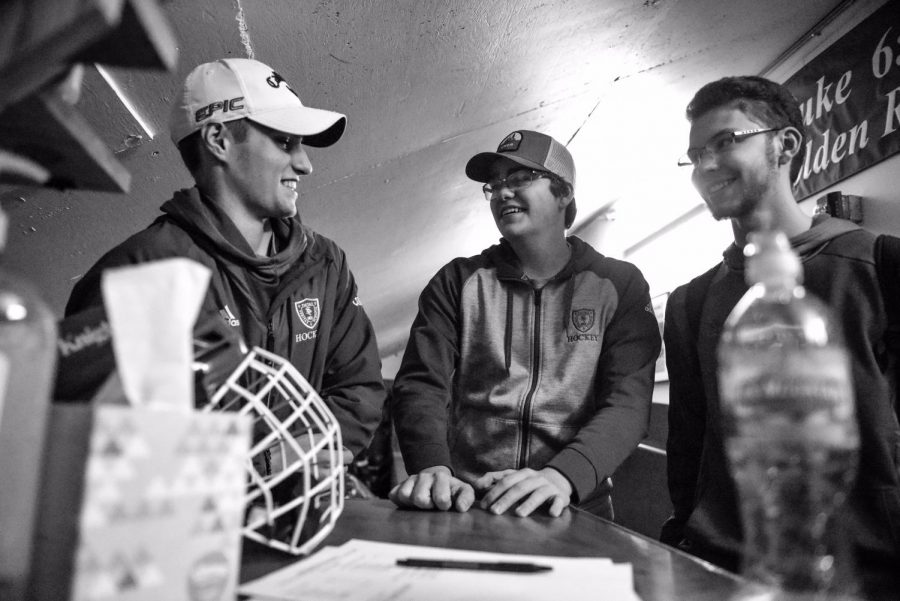 Photo Courtesy of Tom Morris
No matter what sport, managers have a lot of fun being involved in a way other than playing. The vast majority of people don't see what goes on behind the scenes of BSM sports teams, Most sports teams have at least one manager to aid the team.
Basketball managers have tasks both on and o the court. During games, usually about 2 times a week on Tuesdays and Thursdays, the managers lm the game, take statistics, and play music during halftime. Additionally, the girl's basketball managers keep the water bottles filled during games.
Some managers have even played the sport. "I played from 2nd grade to 8th grade. Once I got to high school, I decided to stop playing," senior girls' basketball manager Caroline Monchamp said.
Others are just interested in the sport because of siblings and family interests. "Both of my brothers played basketball so I have gone to a lot of games with my family, and I have always loved watching basketball on TV," senior and boys' basketball manager Olivia Engstrand said.
The boys' hockey managers don't go to every practice, but still, have a lot of work to do during the games. "Before home games, we clean the locker rooms to make sure it's ready for the team. We do anything the coaches need, fill water bottles, give the players Advil and tape, we always have everything on hand. If there is something wrong with a skate or a stick we get it done," senior and boys hockey manager Luke Tift said.
Tift has always loved playing and watching hockey. He got into managing when he volunteered himself sophomore year with then-sophomore, now senior, Andrew Cadle. The hockey team hadn't had a manager in a while, so the team was thrilled they were interested in managing.
Tift's favorite memory was the sophomore year overtime win against Eden Prairie, making them number 1 in the state. "Every overtime win is a memory," Tift said.
Wrestling managers don't attend every practice, but they have many responsibilities during matches. "We use an app on an iPad called mat boss to compare the rosters from all of the teams and put in the names for each match. When BSM wrestlers are in a match, we record them and watch the referee for scoring," senior and wrestling manager Stephanie Jenson said.