Seniors combat the tendency to partake in "senior slide"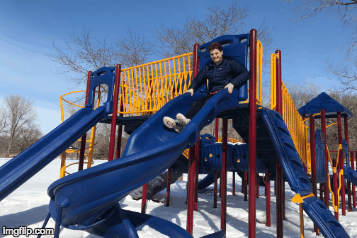 With the start of the second semester at BSM, many seniors have been looking forward to spending their last months at BSM participating in the classic high school tradition known as the "senior slide," during which seniors lose motivation to maintain good grades.
While many will stop caring and let their grades slip down into the endless abyss of laziness, some BSM seniors are discovering that they're doing fine without it. "I'm interested in what I'm doing and I want to learn," senior Brady Solomon said.
A few students, such as Solomon, have decided to spend their final semester continuing their studies rather than follow tradition and goof off. Even with the assurance that taking the semester off wouldn't impact acceptance into college, he has decided to stay on top of his responsibilities. "Yeah, it would be possible to start sliding. It wouldn't be good for my GPA, but I'd survive," Solomon said.
Solomon stated several times that his decision to stay engaged has nothing to do with a concern for his grades and was instead inspired by his passion for learning. "I'm trying as hard as I usually do because I'm genuinely interested in all my classes," Solomon said.
Students such as Brady Solomon are difficult to find this time of year. Many students, for one reason or another, have opted out of working, in favor of having a stress-free senior year. Senior Ian Black, who considers himself to be on a bit of a slide, is one of the few who hasn't forsaken effort entirely, "My grades are still perfectly intact," Black said.
Since this is his last semester, Black has decided to take things a bit less seriously than he has in previous years. A wonderful example of planned procrastination, Black has decided that he will do anything in his power to avoid doing any work at home. "I only do about one hour of homework at home every week," Black said.
Instead of working at school Black has decided to do all his work here at school. While it is debatable whether or not this strategy has resulted in more or less work for Black, it is certain that the spirit of the senior slide is buried somewhere in his subconscious. "I just want to think about something other than school when I get home," Black said.
Who knows if the senior slide will claim these students as they trudge further down the path to graduation. For the moment though, laziness does not seem to be an issue for these two.