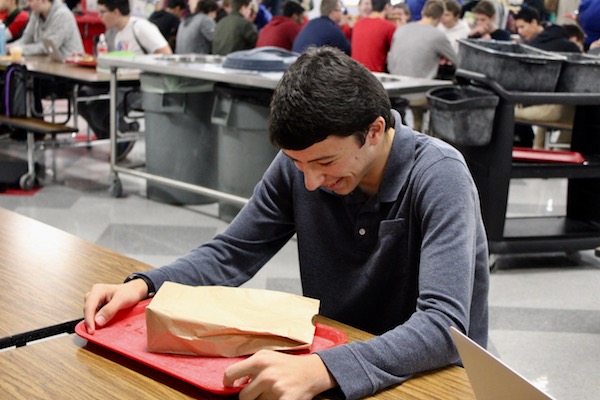 Brady Solomon sits at different lunch tables
Picture this: you're sitting at lunch, having a conversation with your friends, when a person walks up to you. They ask to sit down in an empty spot nearby; you let them. Why not? They sit down and start eating. You continue your discussion. After a moment, you notice that the new person's listening in on your conversation. They're not really saying anything, just eating and listening. It's awkward.
I was that person. For a week. The assignment was simple; do something out of your comfort zone for a week and write about how it went at the end. I chose to sit at a different table in the cafeteria every day. How bad could it be, right? I'd eat my lunch and make some conversation, and it would be over in twenty minutes. There was just one problem: me.
I'm not a very social person. I usually eat my lunch in the great hall, reading a book or doing homework that may or may not be due by the end of the day. It's not too loud or busy, and I don't have to worry about talking to people. It's not that I dislike talking (or people), it's just that I'm really bad at it.
Most days, by the time I sat at a table, the people around me were already in conversation. I'm really bad at judging pauses, so I'm never sure if it's a good time to jump in. By the time I've decided to say something, someone else has started talking and my opportunity is gone. This means it's very possible for me to sit in on a conversation for fifteen minutes or more without making more than one or two comments the entire time.
It didn't help that I usually sat in the great hall. Many of the tables in the cafeteria have some sort of daily routine, and I didn't know what they were. Apparently––and this was news to me––it's not uncommon for entire tables of people to get up and leave halfway through the lunch period. This happened four of the five times I ate in the cafeteria for this assignment. Usually some people stayed behind; these were usually the ones I talked to. Once or twice, though, I found myself completely alone with my questions. Why were they leaving? Where were they going? Most days everybody left almost exactly at 12:55 PM––why? Was there some sort of significance to the time that I'm unaware of?
After most of the table made their great migration to who-knows-where, I found it was usually easier to get into a conversation with whoever was left. This led to several interesting discussions with people I didn't otherwise interact with very often. I talked about old and current classes, college visits, and upcoming tests. I had a good conversation about books and their movie adaptations. None of this would have happened if I hadn't chosen to challenge myself with the assignment.
Before the assignment, I ate in relative solitude. When I was alone or with one or two other people, I could concentrate on my work with few distractions. It was comfortable––but that doesn't mean it was good. Since I always did the same thing with the same people, I never met anyone new. Now, all of a sudden, I had to sit with others and have discussions. It was a big change that pushed me way out of my comfort zone. Now that it's all said and done, I'm glad I did it. I've met a few new people and I'm talking more than I used to.