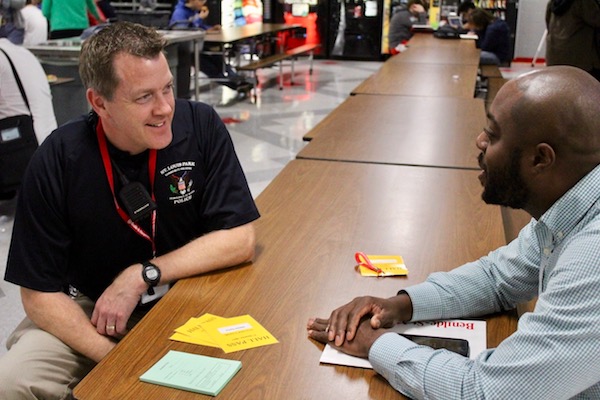 Em Paquette
Keeping a school and its students safe from outside harm is key to having a secure learning environment. Following the promotion of BSM's previous officer, Aaron Balvin, the BSM faculty and staff gained a new member that helps with keeping our school and students safe. School Liaison Officer Dennis Maki is a new addition to the BSM faculty and staff team, and he is here to protect and help students.
Maki works for the St. Louis Park Police Department, but he does more than patrol the roads. At the moment, Maki is the school resource officer for all of the private schools in St. Louis Park; Maki also works with Groves Academy, French Academy, and Holy Family Academy, just to name a few.
Maki was a resource officer a long time ago, but before coming to BSM, he taught Drug Abuse Resistance Education (D.A.R.E) for four and a half years in the St. Louis Park elementary schools, then patrolled the road for 15 years.
Maki is now back as a resource officer, which can mean many different things. Maki sees himself as a resource to the school, especially for students, who have any questions or concerns, law enforcement related or not. He also wants to keep the school safe from outside violence and problems coming into the school environment. "I'm not in the schools because the schools are a problem; I'm in the schools to help keep students safe and be a resource," Maki said.
Despite the fact that BSM is only one of his many schools, he is still on school property Monday through Friday. His hours aren't exactly set, but occasionally he will leave and go to other schools if they need him there.
Maki has had a great experience here so far and likes it better than working on the streets. "When you're working patrol, you're always seeing people at their worst, so you start to think everyone's bad. To me, I'm very happy to be here especially at BSM, because the kids are all nice, polite, the staff is excellent, so I'm seeing people at their best all the time, which is a wonderful thing," Maki said.