Muriel Ruppert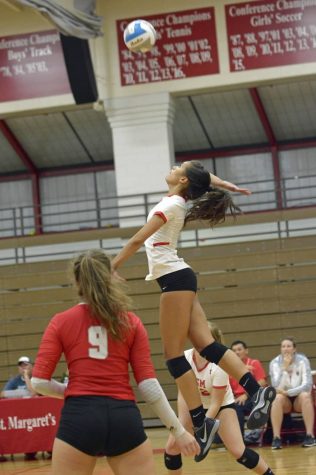 Junior Maizy Jackson is an extremely talented and valuable asset to the BSM volleyball team. Jackson, a top ranked player in the state, has already committed to the University of Northern Iowa.
Jackson didn't seriously begin playing volleyball until junior high. "I started playing club volleyball when I was in seventh grade, and then before that I did a few camps, but it wasn't competitive at all," Jackson said.
Since then, Jackson has developed into an elite level player. Jackson has been a starter on the varsity team since freshman year.
For Jackson, volleyball is a year-round commitment. "I did club through all of winter and part of June, and then I did high school camps in the summer," Jackson said.
Each week Jackson devotes multiple hours to training. "In high school, we practice every day of the week for two and a half hours," Jackson said.
Jackson's accomplishments have not gone unnoticed. Jackson has been nominated for the Star Tribune's player of the week 2 times this season alone. Jackson is currently ranked top 10 in the State this year in kills, with 32, and she is also in the top 10 for solo blocks, with 50 so far this season.
Along with being a dominant presence on the court, she is a great teammate. "Maizy is such an amazing teammate. She works hard at every practice and game. She is very positive on and off the court and can always put a smile on my face," teammate Anna Shurson said.
Jackson recently announced her commitment to The University of Northern Iowa to future her education and volleyball career. "I like the coaches there and the players are nice too," Jackson said.